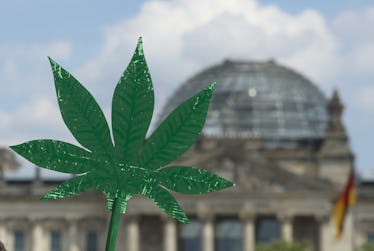 These States Are Voting On Weed In The Midterms, So If It Passes You Can Puff
Sean Gallup/Getty Images News/Getty Images
As October quickly comes to a close and November makes its grand entrance, we've officially landed in election month. On Tuesday, Nov. 6, people from all across the nation will be heading to their polling places to make their voices heard. While issues like LGBTQ+ rights to reproductive rights will be appearing on a number of ballots, these four states have marijuana ballot initiatives in the 2018 midterms. It looks like some people are pushing to go green.
Come Nov. 6, voters in Michigan, Missouri, North Dakota, and Utah will cast votes to decide whether their state will make legal cannabis a reality for residents. North Dakota and Michigan will vote on whether to legalize recreational marijuana for residents 21 and older, while Missouri and Utah will focus on legalizing the use of medical marijuana. To boot, North Dakota's measure would create a system for automatic expungement of criminal convictions for possession of weed, meaning this measure would have implications beyond your local head shop.
Over the past few years, legalizing marijuana has become a social issue that a number of people have pushed for, and a handful of states have actually passed. As of 2018, nine states, including Colorado, Washington, California, and Oregon have made recreational marijuana legal for residents 21 and over, while 30 states have legalized medical marijuana. So, whether Michigan, Missouri, North Dakota, and Utah will join those states in this historic decision is still up in the air, but there's some clearly perks that could come with legalizing weed.
According to an October report from Business Insider, legal cannabis industry sales have completely skyrocketed since 2017, bringing in an impressive $9.7 billion in North America alone. Plus, the market could reach up to $24.5 billion in sales as early as 2021, especially now that more states are legalizing the substance both recreationally and medicinally. According to a 2017 Gallup Poll, 64 percent of Americans support legalizing marijuana, and it's a reasonably bipartisan issue. An October 2018 report from the Pew Research Center found that 51 percent of Republican voters support legalization.
As legal marijuana becomes more popular among voters, it's not surprising that more government officials are speaking out in favor of legalization. In April, VICE reached out to senators in each state to hear their thoughts on decriminalizing marijuana, and Michigan Senators Debbie Stabenow and Gary Peters, both Democrats, agreed that residents should be allowed to decide whether recreational cannabis should be legal. Stabenow's spokesperson told VICE,
It's time to decriminalize medical and recreational marijuana. It's also important to move forward thoughtfully and work closely with law enforcement, public health officials, business leaders and communities to ensure we get this right and avoid unintended consequences.
Although many may support legalizing cannabis, there's a few issues that need to be addressed before everyone... lights up, so to say. Currently, a majority of marijuana related arrests involve individuals who only contained a small amount of pot on their person. In addition, African Americans are nearly four times more likely to be arrested for marijuana possession as opposed to whites, according to the American Civil Liberties Union (ACLU), but in territories such as Iowa, Washington, D.C., Minnesota, and Illinois, it jumps to nearly nine times more likely. As marijuana legalization becomes more common across the United States, some states are actually letting people reduce convictions for past marijuana related crimes. Colorado, Maryland, New Hampshire and Oregon are a few states in particular who are making it easier for those convicted of marijuana related crimes to have records sealed or expunged, similarly to the provision on the North Dakota ballot.
While legalizing marijuana may feel like a less urgent matter to address, this decision could lead to huge change in these states. No matter where you stand on the issue, make sure your voice is heard.