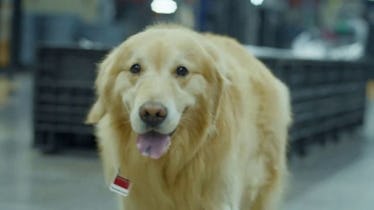 WeatherTech Featured The Cutest Dog In Their Super Bowl Commercial This Year
WeatherTech
Can I get a "D'awww?" I thought the most emotional I'd get while watching this year's Super Bowl would be if the Pats won yet again and my local, friendly neighborhood Pats super-fan friend would continue to be annoying AF for another year. But I was dead wrong — and it looks like the rest of America agrees with me. In fact, these tweets about Scout in WeatherTech's Super Bowl commercial prove that this Super Bowl isn't about accomplishing the impossible, but rather, the impawsible.
WeatherTech founder David MacNeil underscores one of his greatest passions, his love for dogs, in his latest Super Bowl commercial. The ad promotes his newest line: PetComfort pet-feeding bowls. According to Forbes, the bowls are also premium in terms of the safety of the materials, canine ergonomics and price. The commercial follows the journey of Scout, Macneil's own pup, along with his son Cooper and daughter Devon. According to Sportscar365, MacNeil says he was inspired to create the pet feeding system after losing his last three dogs to cancer. After researching the harmful toxins that can exist in pet bowls, he resolved to make a change.
I think I speak for all pet lovers alike when I say — Thank you, MacNeil. This commercial, along with the new feeding bowl, is a gift.