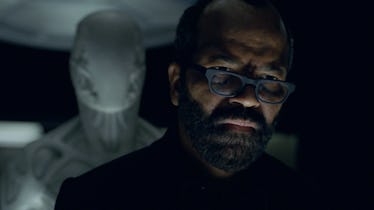 The 'Westworld' Season 2 Trailer Is Here & The Soundtrack Is Going To Be Intense
HBO
The first major trailer heralding Westworld's return to HBO arrived this week, giving us a hint at what's in store for both our Android heroes and their creators. But, as is fitting for the show that takes over the all-important Game of Thrones April-June broadcast slot, it's not just the scenes in the trailer that caught fan's attention, but the musical score. But what was that song playing in the background of the Westworld Season 2 trailer? For fans of '90s music, it might have felt both familiar and yet completely new.
Westworld, like Game of Thrones before it, is scored by the legendary composer Ramin Djawadi, and this piano and string arrangement that plays in the trailer is his handiwork. But he didn't write the original song. It's a cover of Kurt Cobain's famous track "Heart-Shaped Box" from Nirvana's 1993 album In Utero.
While those who are just getting into Westworld ahead of the second season might be surprised to discover the show would do such a cover, it's actually in keeping with the theme from Season 1, where Djawadi covered everything from the 1960s with "House of the Rising Sun" by The Animals to the 1990s with Soundgarden's "Black Hole Sun."
But the trailer doesn't do the full song justice. It doesn't actually begin to kick into the two-minute trailer until about 20 seconds in and then it takes a bit of time before it gets going enough to be recognizable.
To that end, Westworld has also released the full three-minute long track as its own YouTube video along with the trailer.
Check it out.
Grunge never knew it could sound this beautiful. This track is available for purchase via all digital retails starting tomorrow, March 30, 2018, according to the YouTube page.
As for what other covers Djawadi is planning to pull out of his bag of tricks, there's no telling. Nor do we have a release date for the soundtrack, but if Season 1 is any indication, we'll probably get it the same week as the finale airs. (The first season ended on Dec. 4, 2016, the soundtrack hit stores Dec. 5.)
For those who are not children of the 1990s and didn't experience Nirvana during their peak of popularity or those who are unfamiliar with the song, here's the original video from the MTV era.
Lyrics:
She eyes me like a Pisces when I am weak
I've been locked inside your heart-shaped box for weeks
I've been drawn into your magnetar pit trap trap
I wish I could eat your cancer when you turn black
Hey! Wait! I've got a new complaint
Forever in debt to your priceless advice
Meat-eating orchids forgive no one just yet
Cut myself on angel hair and baby's breath
Broken hymen of your Highness, I'm left back
Throw down your umbilical noose so I can climb right back
Hey! Wait! I've got a new complaint
Forever in debt to your priceless advice
As for what other sorts of covers, we can speculate that Djawadi will probably pull out some classic rock covers as well. Here's his cover of The Rolling Stones' "Paint It, Black" from Season 1.
There were also 1990s era grunge covers in Season 1, including "Black Hole Sun." The original version was written and sung by the late great Chris Cornell.
Djawadi also leaned into '80s New Wave music as well, creating pieces like this cover of The Cure's "A Forest."
Westworld Season 2 will return to HBO on Sunday, April 22, 2018, at 9:00 p.m. ET for a 10-episode run.