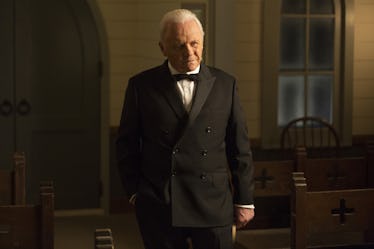 'Westworld' Is Bringing Back Some Surprising Characters For Season 2 & We Can't Wait
HBO
Like Game of Thrones before it, HBO's Westworld ended with a good old-fashioned bloodbath at the end of Season 1, with characters seemingly killed off or disappearing, never to be seen again... or will they? As Westworld Season 2 prepares to take over the old Game of Thrones Spring TV season airing slot of Sunday nights at 9 p.m. from April through June, new Westworld Season 2 cast rumors suggest that the cast might not have been quite as decimated as originally thought.
The end of Season 1 was the robot revolution, as Dolores (Evan Rachel Wood) moved to seize control of the fully immersive theme park. Though we don't know a whole lot about Season 2 as of yet, both trailers so far suggest the bloodshed is far from over, and Dolores' revolution will be less of a coup and more of a protracted war — perhaps one like the French Revolution, where a complete topping of the regime required several stages of battle.
Meanwhile, characters who seemed to have disappeared, like Elsie Hughes (Shannon Woodward) and Ashley Stubbs (Luke Hemsworth), and those who fans saw shot, like The Man in Black (Ed Harris), aren't necessarily gone. Clementine Pennyfeather (Angela Sarafyan), who shot the Man In Black, might still be lurking around too. Just because they're not in the trailers doesn't mean they're not coming back.
In fact, when showrunners Jonathan Nolan and Lisa Joy sat down and did an accounting of where the characters were, a surprising number of them seem to have survived.
One of the most important "assets," in the words of the showrunners, is Peter Abernathy (Louis Herthum). Herthum told Entertainment Weekly:
Dolores' creepy, Shakespeare-quoting father was last seen being brought out of cold storage as part of Charlotte Hale's scheme to smuggle data out of the park. He was supposed to be put on a train to leave. Did he make it out? We're told he will be in the season and has become 'an important asset,' one of only two characters that Dolores has any attachment to (the other, of course, is Teddy).
Then there are those who were in the corporate headquarters when the revolution came, including Charlotte Hale (Tessa Thompson) and Lee Sizemore (Simon Quarterman). Both have apparently survived, though — Sizemore is in a very bad position when the new season begins.
Quarterman told Entertainment Weekly:
He's found himself in the most uncomfortable position he can possibly be in. These hosts have always been props to his stories, and now it's like he's become a player in one of his own stories.
I mentioned Elise and Ashley earlier — the former was kidnapped and the latter went after her. They, too, are not enjoying seeing Westworld from outside the boardrooms.
As showrunner Joy puts it:
They're finally getting to experience Westworld as guests and not in the managerial halls, but I'm not sure they're enjoying their experience.
On Ed Harris' Man-In-Black's survival:
The theme park's VIP guest is very much alive and has a new mission in Season 2 ('He gets a bit of damage done to him, that's for sure,' Harris teases). We'll also see his younger incarnation, William, as we explore the early days of the park and discover how he gained so much influence over Delos Incorporated.
Harris' younger self isn't the only younger version we'll be seeing. One of the major tricks Westworld Season 1 pulled off was the "Young Robert Ford" using digital imaging to "de-age" Anthony Hopkins. The showrunners confirm the present day version of Ford is dead, but:
We will, however, see a younger version of Dr. Ford in flashbacks played by another actor at some point.
Westworld Season 2 returns to HBO on Sunday, April 22, 2018, at 9 p.m. ET.