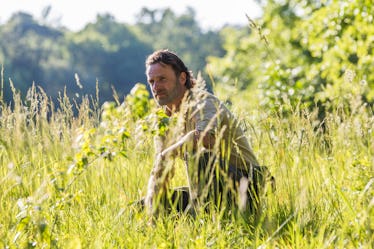 'The Walking Dead' Tribute To George Romero Was An Emotional End To The Season 8 Premiere
Jackson Lee Davis/AMC
"Without George A. Romero, there is no Walking Dead," The Walking Dead comic creator Robert Kirkman wrote following Romero's death in July. Director George A. Romero is considered the father of the zombie movie, so it's only fitting that the hit AMC series would pay tribute the man who made the genre possible in its Season 8 premiere. The show made sure to honor the legendary filmmaker after the episode, marking an emotional conclusion to an action-packed premiere.
George Romero has had a tremendous impact on film and popular culture and The Walking Dead's nod to him salutes the profound influence on the entertainment his vision paved the way for. It's not at all surprising that The Walking Dead would make a point to memorialize Romero through the series. After he passed away, members The Walking Dead family spoke out about his legacy, making an effort to ensure his impact was understood by fans. At a Comic-Con panel that took place only a few days after Romero died, executive producer Greg Nicotero remarked,
Everyone here owes a debt to one man, George Romero. None of us would be here if not for this guy. He really broke boundaries in the '60s with stories that had social commentary. He used zombie apocalypse to say things about what was going on in the world. And he opened the doors for hundreds and hundreds of makeup artists.
Nicotero and Romero had worked together in the past and developed a bond. In a guest column for The Hollywood Reporter, Greg wrote of his mentor, "While he is remembered largely for his singular 'invention' of what we know as the 'mythology of the modern zombie,' his body of work speaks to who he was: a visionary. His films were timely, relevant and, at their heart, fun."
Romero took the horror movie art to the next level with 1968's pioneering Night of the Living Dead. Other memorable titles include subsequent sequels in the Dead franchise, as well as horror favorites The Crazies, Martin, and Monkey Shines. He wrote the majority of his filmography and also acted as cinematographer for some. "I have a soft spot in my heart for the zombies," he said in an interview with NPR. "They are multipurpose, you can't really get angry at them, they have no hidden agendas, they are what they are. I sympathize with them."
Of course, the people behind The Walking Dead weren't the only industry leaders who spoke up about the significance of Romero's work following his passing. Stephen King shared his sad thoughts on Twitter.
Director and screenwriter Edgar Wright did the same, alongside Hollywood heavyweights with horror ties like Eli Roth, Guillermo Del Toro, and Jordan Peele.
If you saw this summer's comedy The Big Sick, you might already know that Kumail Nanjiani is a huge fan, as he featured Romero's work in his movie.
The Walking Dead's tribute comes at a timely moment, as Romero will be memorialized with a posthumous star on the Hollywood Walk of Fame this coming Wednesday Oct. 25.
Despite the fact that Romero was previously outspoken about his feelings regarding shows like The Walking Dead, it's important that modern rulers in the genre give credit where credit is due. Zombie films have had a surge of popularity over the past few decades and with the success of The Walking Dead and other similar TV projects, perhaps Romero's cinematic contribution will be introduced to a new generation of horror and television drama lovers alike. If you're a Walking Dead fan or you just enjoy trailblazing classics of cinema and you haven't watched his movies, get thee to a streaming service or a movie theater playing his work immediately.