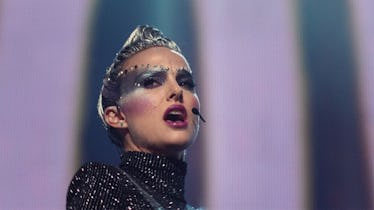 The 'Vox Lux' Trailer Will Make You Fall In Love With Natalie Portman All Over Again
Neon
The last quarter of the year is when the thick of awards contenders start piling up at the box office. This year seems especially music heavy, with A Star Is Born leading the pack featuring Lady Gaga, Bohemian Rhapsody right around the corner with Rami Malek as Freddie Mercury, Elisabeth Moss starring as a Courtney Love-type rock star in Her Smell, and now Natalie Portman as the mononymed pop star Celeste in Vox Lux. The Vox Lux trailer, which arrived this week, shows Portman's character at her rock star height and suggests the early buzz on this movie is as good as it promised.
The irony of Gaga starring as Ally Maine in A Star Is Born is in reality, it was a far cry from her real pop star roots and sound. For those looking for playing something more akin to the fictionalized life of a star of Gaga's caliber, look no farther than Vox Lux.
Vox Lux features Portman as Celeste, a global superstar whose drive and music come from the trauma of having survived a mass shooting at her Long Island school when she was a teenager. Fame and fortune may seem to have insulated her from ever becoming a victim again, but a domestic terrorism incident done by people wearing versions of her stage show outfits triggers a crisis meltdown.
Here's the trailer:
Here's the film's official synopsis:
In the year 1999, on the eve of the 21st century, teenage sisters Celeste and Eleanor survive a seismic, violent tragedy. The sisters compose and perform a song about their experience, making something lovely and cathartic out of catastrophe - while also catapulting Celeste to stardom. By 2017, the now 31-year-old Celeste is mother to a teenage daughter of her own and struggling to navigate a career fraught with scandals when another act of terrifying violence demands her attention.
Though the trailer features her heavily, Portman only plays Celeste as an adult, which takes up the back half of the film after she's become a global sensation. The opening half of the film chronicles Celeste's rise to fame after singing at the school's memorial service broadcast, played by Raffey Cassidy, best known for Tomorrowland and The Killing of a Sacred Deer. Cassidy then plays Celeste's daughter in the latter half of the film.
Like A Star Is Born, the music for this film is all original songs, written by Sia, known for both her songwriting prowess for other major names as well as her own musical career. Portman has been credited as singing all the songs herself.
According to Entertainment Weekly, Portman is planning on campaigning for awards season on the back of this performance, including making a play for an Oscar. But since she's only in the back half of the film as adult Celeste, it will be in the Supporting Actress category. Perhaps if the film gets an Original Song nomination, fans will be lucky to see her perform live at the Oscars too.
Vox Lux arrives in theaters in wide release on Dec. 7, 2018.