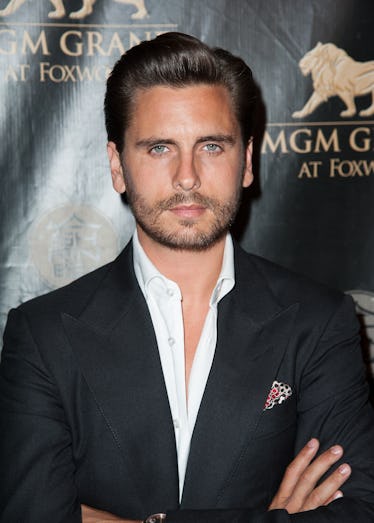 Scott Disick's Prank On Kris Jenner For "Art-Shaming" Khloé K Is Sweet, Sweet Revenge
Dave Kotinsky/Getty Images Entertainment/Getty Images
Almost everyone agrees that Kris Jenner is an incredibly smart businesswoman. She's built an empire and brought all of her kids along for the ride. But being a prolific businesswoman doesn't necessarily mean she can't be taken for a ride herself. In fact, Scott Disick took the opportunity to make sure Jenner stays humble with a hilarious prank. And the video of Scott Disick pranking Kris Jenner will make you see just how human the Kardashian-Jenner matriarch is.
The prank originated as a way to get back at Jenner for "art-shaming" her daughter Khloé Kardashian. In a recent clip from Keeping Up with The Kardashians, Jenner can be seen chastising Kardashian for not knowing much about art. Apparently, Jenner was upset that her daughter didn't know who Jeff Koons was.
Kardashian's response was a tough, but necessary one.
"Just because I'm not as knowledgeable as you, you shouldn't turn your nose up," Kardashian explained to her mom. "You should be like, 'Well Khloe, Jeff Koons is…' instead of making me feel less than and uneducated."
Check out the tense moment:
Since the ordeal was pretty embarrassing for Kardashian, she and Disick decided to get back at Jenner. So, they concocted a plan to cut her down a few notches.
The result was a ridiculous scenario in which a fake artist, procured by Disick, would be introduced to Jenner as someone who's up-and-coming. As you might expect, hilarity ensued.
Watch Disick prank Jenner at an art gallery:
In the video of Disick pranking Jenner, he explains what the plan is:
Today will be the day that we introduce Kris to this artist and, hopefully, everything goes well and she falls for it. I mean you have to remember here, this guy has absolutely no knowledge of art. The only thing he knows is how to basically pretend that he knows.
In a matter of seconds, Disick creates a name for his faux artist: Art Vandelay. Sounds artsy, right? Well, Jenner smelled something fishy right away.
After shaking Art's hand, she asks him, "Your name is Art and you're in an art gallery?"
"No, he's an artist," Disick protests. Jenner still questions it, but she eventually goes along, saying, "And you're an artist and your name is Art? This is amazing!"
After some more awkward introductions, Jenner continues to gush. "Are you going to Art Basel again this year?"
Of course, Art has to agree. "Absolutely. Absolutely," he responds.
So far so good!
While the video doesn't show the entirety of the prank, it does seem to be off to a promising start. Even Disick is pretty hopeful that the prank will go as planned.
"Art Vandelay does seem to be an up-and-coming artist in our eyes," Disick tells the camera. "Hopefully everything goes well and Kris falls for it and I assume she will, if I know her."
It'll be interesting to see the final result of this prank and how well Jenner takes it. I'm sure Disick and Kardashian got a good laugh out of the whole thing. And hopefully, Jenner will learn her lesson about "art-shaming" her kids!