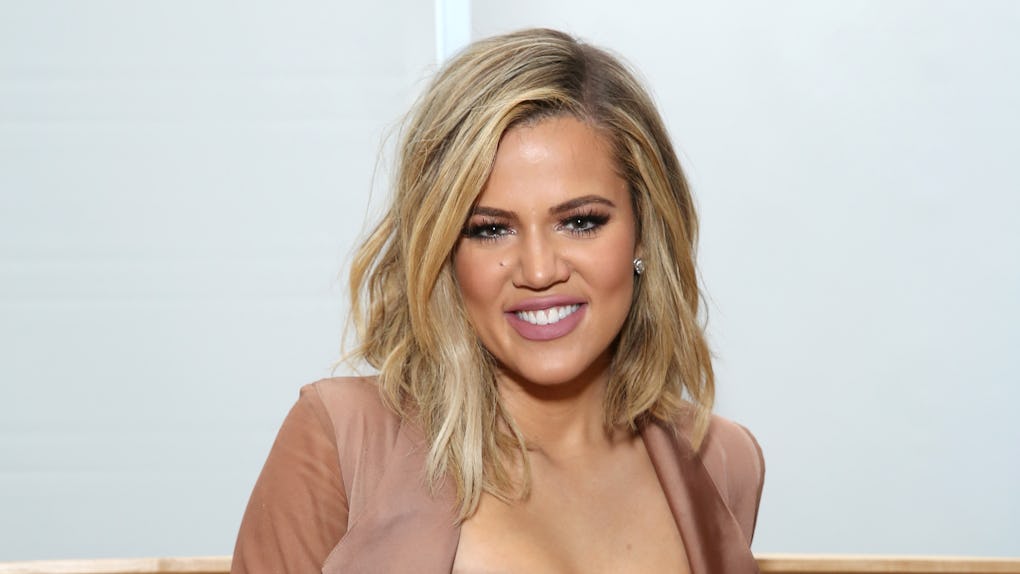 Cindy Ord/Getty Images Entertainment/Getty Images
The Video Of Khloe Kardashian Choosing Kim Or Kourtney To Be True's Guardian Is Awkward
Way before Khloé Kardashian gave birth to her daughter, True, she had to answer a really tough question: which of her sisters should be True's legal guardian if something ever happened to her? Well, on an upcoming episode of Keeping Up with the Kardashians, Khloé makes that decision right in front of the cameras. And Kim and Kourtney Kardashian are right there when it all unfolds. Actually, the video of Khloé Kardashian choosing between Kim and Kourtney to be True's guardian is a little bit awkward.
In the video, Kourtney and Kim are gathered around a table while Khloé delivers her decision about who should be True's legal guardian.
"So, I can't make anything official until the baby," Khloé tells them. "But I am probably going to have Kim as the legal guardian if, God forbid, something happens just because — I don't know my parenting style until I have a baby, but from what I envision my parenting style to be, I do think it would be more like Kim. A little more stricter."
Kim is mom to three little ones: North, 5; Saint, 2; and Chicago, 7 months. So, she's had quite a lot of parenting experience over the years. Not that Kourtney hasn't. She's mom to three kids as well. There's Mason, 8; Penelope, 6; and Reign, 3.
But even so, Khloé seems to have settled on Kim. In an on-camera interview, the reality star explained her decision to choose Kim over Kourtney.
"Watching Kimberly be a mom, I really respect her parenting skills," she says in the video. "Not that I don't respect Kourtney's. I relate to how Kim parents more, but at the end of the day, this family is so close and we love each other so much. And if anything, God forbid, were to happen, I know my daughter's in the best of hands, no matter who her legal guardian is."
Watch how it all happens on KUWTK:
Kourtney didn't seem too upset over the decision. In the video, she mentions that she has three kids herself and she's also been in the tough spot of choosing one sister over the other. So, she can totally relate to Khloé.
In her own on-camera interview, Kourtney expanded on how she feels now that she knows Khloé has chosen Kim to be her daughter's legal guardian.
"I mean, I'm a little bit disappointed that I'm not the guardian," Kourtney says. "But honestly, you don't know what your parenting style is until you have kids, so I think once Khloé has her own daughter and she's really a mom, then maybe she will realize that we have more in common than she thinks as far as parenting style goes. You never know, Khloé might switch back to me."
As for Kim, she only had one response. "I am honored. I will take great care of your kids," Kim said to Khloé in the video. But, hopefully Kim will never have the chance to "take great care" of Khloé's kids, since, like, that would mean something terrible happened to her younger sis.
In all honesty, it just sounds like these three are there for each other no matter what. So, I don't think it really matters much who the designated guardian is at the end of the day.