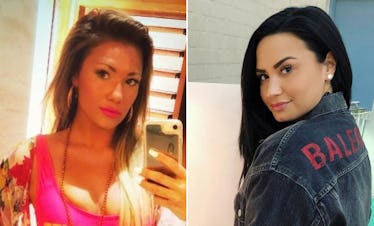 Demi Lovato's Sister Just Called Out Haters Body-Shaming Demi In Such A Passionate Way
Dallas Lovato / Demi Lovato / Instagram
Demi Lovato's family isn't tolerating any nonsense right now. Her sister, Dallas Lovato, is especially adamant about calling people and publications out for any body-shaming comments they make about her superstar sibling. In a video posted to Instagram on Wednesday, Dec. 5, Dallas took aim at "tabloids" calling her sister Demi "fat." The video of of Dallas Lovato calling out people body-shaming Demi just goes to show what a strong support system the singer has around her right now.
In the video, an incensed Dallas goes on a 30-second rant about how media outlets should refrain from making body-shaming comments about her sister. She also talks about what a "beautiful" and "strong" person Demi is.
"Ya know what? Here's another thing. I'm just saying. To all the f**king tabloids out there right now calling my sister fat, go f**k yourself because she's the most beautiful, strong, amazing person that I've ever met in my entire life," Dallas said in the video. "And everyone — why are you making my sister's body the topic of your conversation? Go f**k yourself."
Dallas ended the video by summing up her entire message, which was that her sister was "beautiful," and that should be all that matters.
"I'm sorry, my sister is beautiful, she's alive, she's conquering a lot of really hard sh*t," she continued. "So. Bye."
You can watch Dallas' video here, as reposted by the fan account Demi Lovato Brasil:
Dallas' video was posted just a day after her sister Demi shared a photo of herself at Jiu Jitsu practice. In a Tuesday, Dec. 4 Instagram post, Demi wrote, "Sweaty, messy jiu jitsu hair.. 😝💪🏻 #BJJ #bluebelt #nevergiveup 💙🥋"
Here is the photo Demi shared:
Demi has been on the mend after a reported drug overdose in July. While the journey toward recovery has been difficult for Demi thus far, she's been very open about what she's going through, which is likely what Dallas meant in saying that she was "conquering" a lot of tough stuff right now.
In a now deleted Instagram post from Sunday, Aug. 5, Demi opened up about her overdose and thanked everyone for their support.
"I have always been transparent about my journey with addiction. What I've learned is that this illness is not something that disappears or fades with time. It is something I must continue to overcome and have not done yet," she wrote at the time. I want to thank God for keeping me alive and well. To my fans, I am forever grateful for all of your love and support throughout this past week and beyond. Your positive thoughts and prayers have helped me navigate through this difficult time."
So, Demi has definitely been through some tough times this year, but it looks like she's doing really well right now which is great to see. And it seems as though her sister is just doing her part in protecting her sister and making sure nothing negative comes her way. It's what any sister would do!