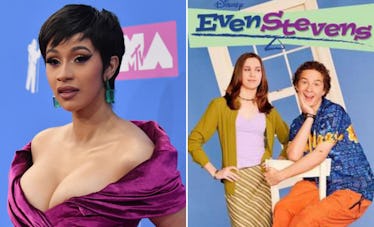 This Video Of Cardi B Singing An 'Even Stevens' Song Will Make You Feel So Many Things
Mike Coppola/Getty Images; Disney Channel
Cardi B may be a 25-year-old new mom, but she's still a kid at heart. And she proved that with an Instagram video of her singing a song that many of you will probably recognize. If you were a kid in the early 2000's and spent your afternoons watching the Disney Channel, then the video of Cardi B singing an Even Stevens song will definitely resonate with you.
Cardi starts the video off by asking, "Who remembers this song?" And then she starts singing "We Went to the Moon (in 1969)" from Even Stevens. The song is from an iconic episode of the show called Even Stevens: Influenza: The Musical. In the episode, one of the main characters, Ren Stevens, goes to school while sick to receive perfect attendance. While she's there, she sings a song about going to the moon for a project. And that's where "We Went to the Moon" came from.
The episode clearly had an impact on Cardi because she still remembers all the words to the song. Here are the lyrics that Cardi sings in the video:
We went to the moon in 1969 / The trip wasn't all that easy / And when we got there we were surprised to find / That it was solid and it wasn't cheesy
"I'm mad that I still know that song after all these years," Cardi says to someone off camera. And then she asks them, "You know that song?"
It's unclear when Cardi originally posted the video, but former Even Stevens star Christy Carlson Romano reposted it to her Instagram and commented on Cardi's song choice.
"Hey @iamcardib I think I know who sang this... 😉," Romano wrote in the caption of her post.
Romano, of course, played Ren Stevens on the show. So, it makes sense that she'd know the song and who sang it. Anyway, here's the video of Cardi that Romano reposted:
Fans of Cardi, Romano, and Even Stevens reacted quite positively to the video. So, Cardi definitely pushed a few nostalgia buttons when she posted the video.
"That show had the best songs," one fan on Instagram wrote. "I also still remember 'Hey Mr Man Male, you're not our master, sister stand strong, sisters stand strong!'"
"I remember this, why? This is the day that... (clears throat) 'Ren got an F, Ren got an F' 🎶🎶 la la la la!! 🤣," another fan commented.
And yet another fan declared that particular episode of Even Stevens their favorite. "This was my favorite episode of any show on tv for the entire year! We need an Even Stevens reunion!" they wrote.
Needless to say, the episode featuring "We Went to the Moon (in 1969)" really stuck in people's memories. If even Cardi B remembers the song after making so many hits herself, then there must be something about it that really clicks in people's minds. Relive the classic below:
Also, the fact that Romano herself saw the video, shared it, and commented on it just makes the whole thing perfect. It's like two totally different worlds colliding in one epic Instagram post. Love it!