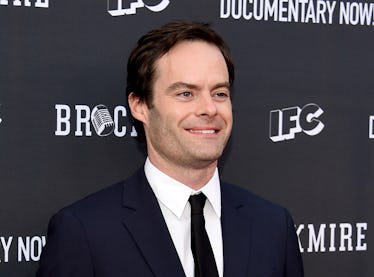 Stefon Returned To 'SNL' & It's A St. Patricks's Day Miracle
Kevin Winter/Getty Images Entertainment/Getty Images
On March 17, fans (me) were thrilled to see Bill Hader's infamous Saturday Night Live (SNL) character Stefon, known for his inappropriate suggestions for tourists, make his return to the show after a four-year hiatus. And it was epic, to say the least. The video of Bill Hader's return as Stefon on SNL includes quirky ways to celebrate St. Patrick Day, a brief cameo from a former SNL collaborator, and so much more. I should also probably say: brace yourself. The video might make you cry from laughter (or cry because you didn't realize how much you missed Stefon).
Shortly after making his on-screen debut, Stefon shared his first St. Paddy's Day recommendation, which involved kale chips, party games, and... desk sets. (???) According to Vanity Fair, he said,
If you're drunk in midtown doing cheap coke off your laundry card, I have just the place for you. New York's hottest club is DOUUUCHE. Inspired by true events, this former CVS, which became a Chase Bank and then became a CVS again, has a familiar yet troubling feel, like when Larry King would play himself in a movie. This place has everything: desk sets, key fobs, kale chips, Roman J. Israel, Esq. Plus, you can play everyone's favorite party game, The Stranger. Do you know that Billy Joel song 'The Stranger?' Well, it's when you sit on Billy Joel's hand until it's numb, and then you rub yourself with it. So you can pretend it's Bruce Springsteen's hand.
When asked if he had any entertainment ideas for people who wanted to do something different or more "Irish-themed," Stefon recommended an Irish, "gang-ridden" club in New York that featured TED Talks and "Farrah-cauns." (???) He shared,
If you're Irish, or just white and violent, I have the St. Paddy's place for you. New York's hottest Irish club is 'Off to Church, Mother!' Located in the clogged heart of the Bronx at the corner of 3000th Street and Garry Marshall Memorial Drive, this gang-ridden skateboard park was the ceremony spot for Verne Troyer's 2004 wedding. This place has everything: peeps, TED Talks, Roman J. Israel, Esq. And be sure to hit the dance floor and do a jig with Ireland's hottest Farrah-cauns, leprechauns who look like Farrah Fawcett. But also, yes, Minister Farrakahn will be there.
Then Stefon shared his last recommendation, a spot that played "seizure-inducing Malaysian music," before a quick cameo by John Mulaney, a former SNL writer who often collaborated with Stefon and was notorious for secretly switching up his cue cards at the last minute. Stefon revealed,
If you're ordinary and you love seizure-inducing Malaysian music, I have just the place for you. New York's hottest club is 'Stand Clear of the Closing Doors, Please.' Built in the Upside-Down World, this haunted hospice was closed when inspectors found a sexy form of asbestos that could cause disease: Me-so-horny-oma. This place has everything: young popes, old popes, Roman J. Israel, Esq. Avoid the dance floor on Wednesdays, when a dozen hot dachshunds and corgis get in free. They call it 'Long and Low Night.' I don't trust any dog whose stomach touches the ground. Plus, you can party in the VIP room with a group of human squatty potties. It's that thing of — you know what, it's a new era, and I don't want to say a word that could be insensitive. Could I consult my lawyer quickly? He's an attorney and a conceptual p*ss artist named Shy.
In summary: Stefon made staying up so late after a long day of St. Paddy's celebrations worth it, and my face still hurts from laughing so much.
(But I think I definitely would have passed on his recommendations.)
IRL, Hader has been keeping busy since his SNL departure.
In the years since Hader left the legendary skit series, he's had roles in major productions such as Sausage Party and The Angry Birds Movie, but overall, he keeps busy with his own mockumentary series, Documentary Now!, alongside fellow SNL alumni Fred Armisen and Seth Meyers. The critically acclaimed series has been nominated for an Emmy Award for outstanding variety sketch series and was even listed as one of "The Best TV Shows of 2015" by The New York Times. Which, given Hader's other successes, doesn't make his nostalgic, one-night only appearance on SNL seem so bad.
But I've gotta say: Hader, I didn't realize how much I needed this segment in my life, so whenever you feel like blessing our screens with Stefon's presence again, please don't hesitate.