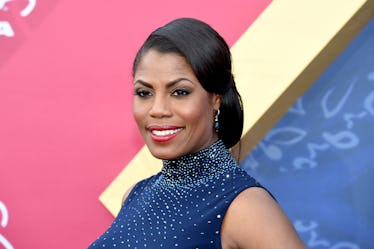 The First U.S. 'Celebrity Big Brother' Cast List Is Here & It's Stacked With Familiar Faces
Ethan Miller/Getty Images Entertainment/Getty Images
As much as CBS likes to pretend that its Big Brother franchise is alive and well, you'd be hard-pressed to find somebody who devotedly watches the summer series about strangers stuck with each other in a house and competing for a cash prize. However, the show is now following in the footsteps of its successful UK equivalent and has finally revealed the first U.S. Celebrity Big Brother cast. Tossing celebrities with varying ego levels into the Big Brother house has produced a whopping 21 seasons and counting of the U.K.'s Celebrity Big Brother, so what celebs are U.S. producers hoping will deliver ratings?
Most notably, reality TV veteran and former White House staffer Omarosa Manigualt has joined the 10-person cast that viewers will first see in the house on Feb. 7. Omarosa, who appeared twice on Donald Trump's Apprentice franchise, stirred up controversy in December when she resigned from her position at the White House and opened up a discussion about the current administration's diversity:
There was a lack of diversity that I will acknowledge. And at times it was very lonely. Because the majority of them were white men who had their own agendas. Many of them had never worked with minorities, didn't know how to interact with them.
As for Omarosa's housemates, it's basically a list of people that make you say, "oh, yeah!" or "...who?." Honestly, I'm not surprised:
Shannon Elizabeth (American Pie)
Keshia Knight Pulliam (The Cosby Show)
Brandi Glanville (Real Housewives of Beverly Hills)
Marissa Jaret Winokur (Broadway's Hairspray and Dancing with the Stars)
James Maslow (Big Time Rush)
Ross Matthews, frequent red carpet host
Miss Colombia Ariadna Gutierrez, victim of Steve Harvey's Miss Universe error
Mark McGrath, from the band Sugar Ray
Chuck Liddell, UFC fighter
The cast was revealed in a Celebrity Big Brother promo that aired during Sunday night's Grammys.
As seen often on Dancing with the Stars, the cast has its fair share of people whose careers peaked in the '80s and '90s, but actually has great job diversity among its participants. Sure, everyone there might be used to appearing on TV, but some have done so in a more scripted format, like Knight Pulliam, and others in an unrehearsed way, such as Glanville. This hints at plenty of conflict in the house about who's being "real" and who is "fake" as housemate evictions approach. Of course, following the example of America's Next Top Model legend Jade, there's also bound to be a debate about who's not there to make friends.
While some of the cast has dabbled in reality TV before, Glanville is probably the most prepared for the Big Brother format. In 2017, she appeared on the UK version of Celebrity Big Brother, which has recently included American cast members alongside English natives.
In a bizarre turn of events, she even clashed with infamous Bachelorette villian Chad Johnson while on the show. Where are Chad's lunch meats?
Based on this, Americans unfamiliar with Celebrity Big Brother are basically just missing out on contestants blaming each other of pulling "American reality TV moves." Good to know.
Fan reactions to the cast announcement have understandably been mixed. While some franchise viewers are disappointed in the lack of bigger stars, others are just excited for something different:
Behind the scenes, host Julie Chen spilled some tea when she revealed that her husband, CBS chief Leslie Moonves, forced her to accept a pay cut because of Celebrity Big Brother's shorter run. That makes sense, but it's super awkward for their marriage.
We'll have to wait and see if the pay cut was worth it when Celebrity Big Brother premieres on Feb. 7 at 8 p.m. ET on CBS. The season will air several times a week before its finale on Feb. 25.