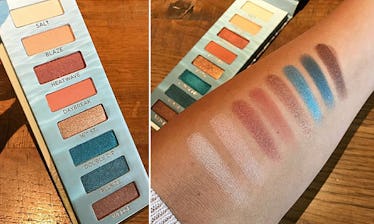 Urban Decay Is Dropping A Beached Eyeshadow Palette & It's Better Than Any Bikini
There are certain things that remind me of summer: Bright colors, visions of palm trees, and the lyrics to Cruel Summer by Bananarama. The new Urban Decay Beached Eyeshadow Palette has at least two of the three covered, so grab yourself a boom box, a bikini, and an eye shadow brush —because it's packed with bright citrus shades, shimmery browns, and mermaid blues that'll have you dreaming of warmer days ahead. If this isn't the makings of a summer anthem, I don't know what is.
If you're familiar with the Urban Decay Beached Bronzer, this new launch is an extension to the stand-alone product we all lovingly know as the matte powder bronzer that provides a glow sans any sparkle. Similar to it's summer-ready counterpart, the Beached Eyeshadow Palette has a photo of palm trees printed on the packaging, and it'll impart a makeup look worthy of your own personal heat wave.
Urban Decay Beached Bronzer, $30, Sephora
The first peak at the palette comes courtesy of the beauty-centric Instagram Trendmood1. While there's no info on launch date or price, I have a feeling Urban Decay is planning to wait until Coachella's first weekend to share the new palette with influencers, or perhaps break the news themselves on their Instagram. Many moons ago, I was with the brand when they disclosed the Beached Bronzer at a private weekend house and gave us tickets to the festival, where we were able to show off our new glow. Maybe they're doing the same this year? Fingers crossed.
If that happens to be the case the time around, you can expect to see the palette on their website in as little as a couple of weeks.
What we do know is the palette is packed with eight shades and looks similar to their popular Naked palettes, minus a few shades and a dual-ended brush.
Judging from the photo of the palette, the colors are bright, sunny, cheerful, and summer ready. Here's what I can gather from the photo below: "Salt," is a sunny-yellow matte shade; "Blaze," a light orange hue reminiscent of sorbet on a summer day; "Heatwave," a brick-red shimmer; "Daybreak," a bright pop of peach; "16th Street," a sparkly bronze shinier than the newest penny; "Double Dip," a turquoise shimmer, perfect to make brown eyes shine; "Plunge," an aquamarine shimmer that would make any mermaid squeal; and "Wedge," a shimmery toasty brown.
Urban Decay Beached Bronzer, $30, Sephora
Judging from the photos, a few of the colors actually look more tame than in the packaging — for those of you who were afraid to commit to orange eye shadow. The yellow-looking shadow, "Salt" actually looks like more of a cream color, ideal for your brow bone. "Blaze" looks like less of a pastel orange and more like a wash of peach on the skin. And "Daybreak" looks more like a burnt orange, almost brick-red, rather than a bright tangerine.
If you're not sold on the shadows — I'm not sure who wouldn't want these colors on and around their lids, but OK — it seems there will also be a new collection of Vice Lipstick shades releasing alongside the Beached Eyeshadow Palette.
Butterfly0901 on Instagram got her hands on the new launch (how?) and shared swatches on her feed, including ones from the new lip colors. All shades of pink, the lipstick range is quite opposite from the shadows in the Beached Eyeshadow Palette.
Keep your eyes peeled, because at least seven new shades are hitting stores soon. "Singe," a sparkly pink-y red shade; "Faith," a metallic rosé lipstick, "First Sin," a nude-y light pink; "Fuel 2.0," my perfect pink-y nude; "Ember," a metallic bronzey brown' "Trip," a matte red, and "En Fuego," a burgundy shade.
Whenever the new palette and Vice lipsticks do drop, Elite Daily definitely has you covered. New Urban Decay makeup just in time for warmer weather? Thank you, Wende.