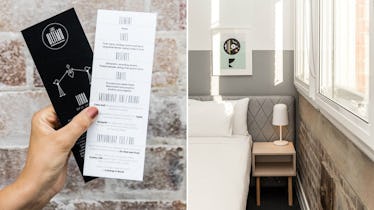 This Zodiac Hotel Customized My Stay Based On My Star Sign & My Mind Is Blown
I will be the first person to admit that I've never really gotten into astrology. Not because I don't believe in it, but rather, I've never really had the opportunity to learn more about it. Of course, I've plugged my information into an astrology birth chart calculator and occasionally read my weekly horoscope, but I haven't done a ton of research to learn what each part of my chart is supposed to tell me. I'm a firm believer in trying everything once, so when I had the chance to stay at The Ultimo astrology hotel in Sydney, Australia, I jumped at it.
The concept of an astrology hotel was very intriguing to me: I wondered how much information they could feasibly discern from my star chart, and how exactly the customization process would work.
The Ultimo personalizes your stay based on your star sign, so upon booking, I provided my time, date, and place of birth. With this information, the hotel's in-house astrologer, Pia Lehmann, drew up my chart in preparation for my stay. I also requested a short reading with her.
I walked into the hotel with zero expectations, but left extremely relaxed, a little more enlightened, and thoroughly impressed. Here's what the experience was like.