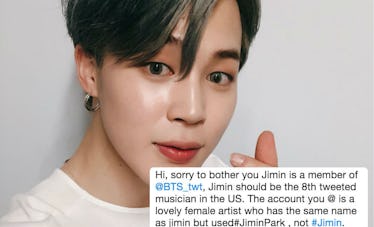 BTS Fans Are Confused About Twitter's Most Talked About Musicians List For One Reason
If 2018 wasn't the year of BTS then I don't know what it was the year of. While the world was reeling from things like political upheaval, the arrival of three Kardashian babies, plus a few other celebrity scandals, the K-pop group BTS was busy simply slaying the game and burning the stage. These boys charged to the center of the limelight thanks to pure talent, and it landed them at the top of 2018's most tweeted about musicians list. While ARMYs are simultaneously cheering "Yes! Duh!," the tweets about Jimin & BTS' most tweeted about musicians rank do point out one big misunderstanding — one that's been going on for ages.
UPDATE: BTS ARMY, you were right and you made a huge difference! Twitter has released a statement acknowledging that, due to an error on their side, they mistakenly attributed Jimin's rank on the year-end list to Jimin Park of JYP Entertainment. Jimin (from BTS) was, in fact, the eighth most-tweeted-about musician in 2018. Here's their statement, which they posted on Dec. 5:
BTS ARMY - thank you for calling our attention to this. After looking deeper, we can confirm BTS's #Jimin was in fact the 8th most mentioned musician in the US, but an error our side attributed the wrong handle to him. Apologies for any confusion!
Congratulations Jimin and ARMY!
PREVIOUSLY: In Twitter's list, "Jimin" is listed as the eighth most-tweeted-about musician. BTS fans automatically assumed that the artist in question was Park Jimin of BTS (who does not have a personal Twitter account), but when Twitter followed up with a tweet mentioning all the accounts on the list, it mentioned @jiminpark07 as the 8th slot.
That Jimin (@jiminpark07) is actually somebody else — fellow K-pop soloist Jimin Park, who is represented by JYP Entertainment. While Jimin Park is undoubtedly talented and beloved by her fans, ARMY couldn't help pointing out that, based on the fact that BTS was Twitter's overall most-tweeted-about musician and has 17 million followers (compared to Jimin Park's 500K+), Twitter must have made a mistake. Fans were understandably confused, and they told Twitter as much:
Well, according to Twitter, this was no mistake and Jimin Park is, in fact, the 8th most-talked-about musician on Twitter — albeit, possibly through one big misunderstanding. In a statement to Elite Daily, Twitter Comms clarified:
This list is based on data — @jiminpark07 was the 8th most Tweeted about musician in the US this year. Her name is similar to Jimin of BTS, and her handle is often mentioned by BTS fans, which could attribute to why she was one of the most Tweeted musicians of the year.
Wait a second... does this mean... it's our fault???
I did a quick advanced Twitter search, and it does seem as though fans do often mistakenly mention Jimin Park of JYP when they're tweeting about BTS and Jimin, so it does seem possible that @JiminPark07 made the list this way.
ARMYs are waffling between sheer excitement over their favorite boys topping the list and taking the Jimin name-swap very, very personal. And understandably so.
Some fans still aren't satisfied with Twitter's answer, though, pointing out the stark difference between the two stars' engagement on Twitter. (There seems to be confusion over how the ranking was calculated — hashtags? Mentions of the name "Jimin"? Twitter seems to imply in their statement that it's based on mentions.)
Here is the top tweeted about musician list in order:
1. BTS
2. Kanye West
3. Drake
4. EXO,
5. Ariana Grande
6. Cardi B,
7. Beyoncé
8. Jimin (Park)
9. Nicki Minaj
10. Rihanna
I know. There's a lot to take in (like how Beyoncé somehow isn't in the top five, for example), but I digress.
Twitter also released a video with other interesting and fun Twitter statistics from 2018. In fact, the most "liked" tweet was J-Hope's video performing the "In My Feelings" challenge. As of publication, the post had nearly 1,800,000 likes.
In the end, BTS' accomplishments stretch so far beyond being the most tweeted at music group. They spoke at the United Nations about young people finding their voices, launched the feature film Burn The Stage: The Movie, released music video hit after hit, and cleaned up at awards shows. They walked away with many, many trophies including the Asian Artist Awards Artist of the Year and Daesang awards, the American Music Awards Favorite Social Artist award, and Group of the Year at The People's Choice Awards.
OK, sure. It isn't ideal Jimin seemingly lost his spot on the most-tweeted-about list over a technicality, but something tells me he and ARMYs will roll with the punches just fine. Plus, Jimin and BTS are one and the same, so we still have much to celebrate!