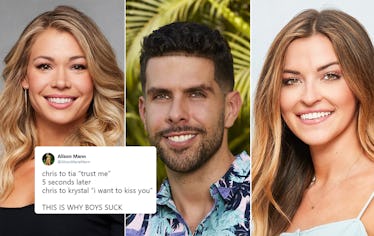 Bachelor Nation Is Going OFF On Twitter Because Chris Kissed Krystal Behind Tia's Back
ABC
"I'm definitely not in a relationship, at all," Chris assured Krystal before he leaned in for a smooch on Tuesday night's Bachelor in Paradise. Um, you sure about that, buddy? You might regret that... After Chris told Tia to "trust" that he was all in on a relationship with her, he went ahead to see where things might go with Krystal. Survey says? Not cool. The tweets about Chris kissing Krystal on Bachelor in Paradise make it clear that Chris isn't exactly tonight's episode's MVP.
Tia and Chris got off to a romantic start on the premiere episode of Paradise Season 5. She decided to pick him for a date when her former fling Colton didn't show up right away and the pair had a surprisingly good time together until Colton entered the picture. But the Tia/Colton thing got messy real quick — they went on their own cozy date, but then he admitted he wasn't ready to commit to her exclusively. Thus, she moved on by giving a rose to Chris. With the Colton drama behind them (sure, sure...), Chris and Tia decided to give it a real go.
With all the new blood flowing into Paradise, Tia started to get insecure. She expressed her uneasiness to Chris so he could give her some assurance of his commitment to her and he told her what she was hoping to hear.
"Just trust me," Chris told her.
All good? Eh, not quite. In what seemed like seconds later, Krystal and Chris found themselves on a daybed together and suddenly all those promises seemed to blow away in the warm Mexican breeze, as far as Chris' was concerned.
"I wanna hang out with you more and, like, explore this and just talk with you and see if you feel like there's a connection," Krystal said to him.
Then Chris pulled out quite the line: "I've never kissed a blonde before." Do you think this is the first time he's said this? I'd wager a big old no, but it worked its smooth magic. Krystal and Chris totes made out right there and then.
Krystal has hit it off with three guys in Mexico throughout her journey thus far. She smooched it up with Canadian Kevin in night one, went on a successful wrestling date with Kenny on Monday night's episode before putting him in the friend zone, and made out with Chris after their one-on-one time together. Hey — she's keeping her options open and there's no good reason to blame her. That's the name of the Paradise game.
Cut to the next morning and Chris did not seem to have any regrets about his time with Krystal. "The goose is flying high," he gushed, before making plans to forge ahead with further BIP conquests.
Not so fast... Word gets around in Paradise and who better to spread the news then Colton? In an effort to "protect" Tia, he took the initiative and spilled the beans about Chris' dalliances. Bachelor Nation will have to wait until next week to see how she handles it, but it looks like the goose is about to get cooked.
Man, there are so many overlapping love triangles establishing that this whole thing is starting to look like an unsolvable geometry problem. I can't keep up!
Bachelor in Paradise returns next Monday on ABC.