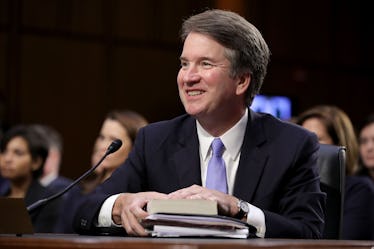 Twitter Has A Lot To Say About Brett Kavanaugh's Bizarre Fox News Interview
Chip Somodevilla/Getty Images News/Getty Images
The conversation surrounding Supreme Court nominee Brett Kavanaugh and the sexual assault allegations against him is growing increasingly intense. On Monday, Sept. 24, Kavanaugh sat down for an interview with Fox News to address and deny the allegations against him and man, did it get bizarre. So it's no surprise that some Twitter users immediately took to the social media platform to discuss their feelings on the sit-down, and their tweets about Brett Kavanaugh's interview with Fox News are seriously angry.
Kavanaugh sat down with Fox News' Martha MacCallum on Monday evening in his first press appearance since two women went public with claims of sexual assault against him, which he has categorically denied, saying in a recent statement, "This alleged event from 35 years ago did not happen." Representatives of Kavanaugh did not reply to Elite Daily's request for comment on the allegations. He continued to deny the allegations in the interview. However, Kavanaugh also made some weird comments about his sexual history in attempts to defend himself against the allegations, repeatedly called for a "fair process" (although he refused to call for a FBI investigation), and more — and people are really grilling him for it on the internet.
At one point, Kavanaugh got a little over-detailed about his sexual history. He said,
We're talking about an allegation of sexual assault. I've never sexually assaulted anyone. I did not have sexual intercourse or anything close to sexual intercourse in high school or for many years thereafter. And the girls from the schools I went to and I were friends.
When MacCallum asked for clarification on whether he was a virgin through high school, he replied, "That's correct."
He also didn't speak specifically as to whether he wanted an FBI investigation into the claims, as his accusers have called for. "I want an opportunity — a fair process," he said. He continued,
America's about fairness, I want a fair process where I can defend my integrity and clear my name as quickly as I can in whatever forum the Senate deems appropriate.
Not everyone thought it went well.
"Wow. That Kavanaugh Fox News interview was the worst idea ever. Whoever thought it was a good idea, apparently doesn't want him on the Supreme Court..." Scott Dworkin, co-founder of The Democratic Coalition, wrote on Twitter.
A few users called out Kavanaugh's seemingly irrelevant assertion that he was a virgin "in high school or for many years thereafter" in defense of the claims against him.
It's also worth noting that neither of the accusations against Kavanaugh include claims of sexual intercourse, so his comment certainly seemed... off.
Some people couldn't get over how "coached" Kavanaugh apparently seemed throughout the interview, which was pre-recorded. In the course of the 20-minute interview, Kavanaugh repeated phrases like "I've always treated women with dignity and respect," and "fair process" multiple times.
Others feel that Kavanaugh shouldn't have done the interview to begin with.
"Whoever told Kavanaugh it would be a good idea to do an interview shouldn't have a job anymore..."
The interview comes just days after two women accused Kavanaugh of sexually inappropriate conduct. California professor Christine Blasey Ford's allegations first surfaced in a Sept. 14 report by The New Yorker, in which she claimed that the Supreme Court hopeful pinned her down and tried to remove her clothes at a party more than 35 years ago while they were in high school — a claim he has adamantly denied. "This is a completely false allegation. I have never done anything like what the accuser describes—to her or anyone," Kavanaugh said in a statement, per CNBC. Elite Daily reached out to representatives of Kavanaugh for further comment, but did not hear back.
Another woman, Deborah Ramirez, who reportedly attended Yale University with Kavanaugh, made a similar claim against him. She said that she was at a boozy dorm party when he "exposed himself ... thrust his penis in her face, and caused her to touch it without her consent as she pushed him away," according to a Sept. 23 report by The New Yorker. Kavanaugh also denied Ramirez's claims in a statement, which read in part:
This alleged event from 35 years ago did not happen. The people who knew me then know that this did not happen, and have said so. This is a smear, plain and simple.
Elite Daily reached out to representatives of Kavanaugh for further comment, but did not hear back.
We'll have to keep watching how this pans out to see about that. But judging from these tweets, it might be in Kavanaugh's best interest to switch up his approach to the claims moving forward.