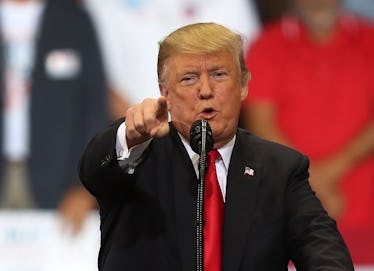 The Trump Admin Is Reportedly Cancelling A Program To Fight Domestic Terrorism
Joe Raedle/Getty Images News/Getty Images
The days following mass violence, like the attack on a synagogue in Pittsburgh the weekend of Oct. 27, are sensitive, with many Americans looking to public leaders for answers and comfort. Unfortunately, this move probably won't help. According to an Oct. 31 report from NBC News, the Trump administration reportedly won't renew a program to fight domestic terrorism. Elite Daily reached out to the Department of Homeland Security, which oversees the program, for further comment but did not immediately hear back.
The Trump administration is reportedly planning not to renew a program intended to fight domestic terrorism after it expires in July 2019, per NBC News. The Countering Violent Extremism Grant Program was originally launched by President Barack Obama's administration in 2016, under which DHS was to distribute $10 million to more than two dozen groups to help fight domestic terrorism through things like law enforcement training and mental health initiatives to prevent extremism before it becomes violent.
But just weeks after entering the White House, all the grant funding was put on hold, according to NBC. The publication also reports that the administration eventually ended the hold and allowed DHS to distribute the funds, but not every group got the money that was intended to be awarded to them under the Obama administration. One group which was reportedly cut, the Chicago-based Life After Hate, was specifically fighting white supremacy by having former white supremacists speak to at-risk youth to dissuade them from the same path. Elite Daily reached out to DHS for comment on the funding changes, but did not immediately hear back.
Trump has been known to warn of the dangers of foreign terrorists, and even instated a travel ban targeting Muslim-majority countries for the ostensible purpose of public safety. But, over the course of Trump's presidency, there have been far more attacks and murdered Americans at the hands of white American men with no Muslim or foreign affiliation than from foreign terrorists, according to Vox. Even before Trump came into office between the years 2008-2016, attacks by American right-wing extremists outnumbered those from Islamists by two to one, per a report from the Center for Investigative Reporting.
News of the Trump administration cutting the anti-domestic terror program also comes after a gunman opened fire in a Pittsburgh synagogue on Saturday, Oct. 27, killing 11 people, according to CNN. Following the massacre, Trump went to visit Pittsburgh and was met with many protesters who believed Trump shouldn't enter their city until he completely denounces white nationalism, according to CNN. Following the shooting in Pittsburgh but prior to his visit, Trump told reporters, "If there was an armed guard inside the temple, they would have been able to stop him," according to CNN. Elite Daily reached out to the White House for further comment on President Trump's remarks at the time, but did not hear back.
President Trump has been criticized for his failure to forcefully denounce white nationalism before. Probably the most notable was Trump's statement following the "Unite the Right" white nationalist rally in Charlottesville, Virginia, in 2017, where violence broke out between demonstrators carrying swastika flags and counter-protesters. The violence resulted in the death of counter-protester Heather Heyer, who was killed when a man drove a car into the crowd. "You had some very bad people in that group, but you also had people that were very fine people, on both sides," Trump said at the time.
Domestic terrorism and white nationalism is an issue plaguing the country, and this move doesn't seem helpful.