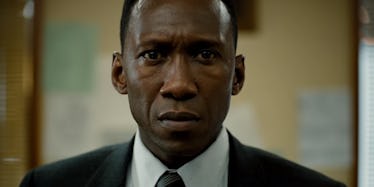 The 'True Detective' Season 3 Trailer Stars Mahershala Ali In A Brand New Way
HBO
Mahershala Ali first caught fans' attention with quiet roles in House of Cards and Hunger Games sequels, but 2017 was his star-making year. Ali appeared in acclaimed films Hidden Figures and Moonlight then, winning a Best Supporting Actor Oscar for his role in the latter. The 44-year-old actor is now hitting the small screen with a leading role in the upcoming season of True Detective, and the True Detective Season 3 trailer showcases Ali's talents in a brand new way for the HBO anthology series.
True Detective has found itself among those shows that take such long breaks between seasons that it's easy to forget that the show was even a thing. After launching a well-received first season starring Matthew McConaughey and Woody Harrelson in 2014, True Detective's 2015 second season, with Vince Vaughn, Rachel McAdams, and Taylor Kitsch, fell a little flat. The show's hype slowing down seemed to contribute to its delayed return, but Season 3 and Ali's involvement were finally confirmed in August 2017. We still have to wait until January 2019 for the show's official return, but the season's first teaser trailer suggests that it may have captured the award-winning spirit of True Detective Season 1.
Telling the story of a crime in the Ozarks, Season 3 looks as if it'll jump across time, as the first season did with McConaughey and Harrelson's detectives re-investigating a crime 17 years after it occurred. Ali appears in the teaser as Detective Wayne Hays, who is seen as both a young and elderly man throughout the clip and becomes involved in a case seemingly involving the disappearance of young children.
The trailer introduces a tense tone, with Ali's character's voiceover offering bleak insight into his mind. We never see Ali actually speak in the clip, but he's seen taking photos at a crime scene, cuddling with his wife and children, and investigating a ransom letter and cryptic scraps of paper. Schoolteacher Amelia Reardon (Carmen Ejogo) also asks Wayne, "Did you ever think you could just go on and never once have to look back?" Wayne seems to be in the camp of completely moving on from cases once they're closed, but as the season's mystery plays out in three separate time periods, this particular crime appears to unexpectedly haunt him throughout his life.
Ali helms a cast that includes Ejogo, Ray Fisher, Stephen Dorff, Scoot McNairy, and Mamie Gummer (Meryl Streep's daughter, FYI). Gummer's character, Lucy Purcell, is a mother who becomes involved in a crime, likely accused of hurting her children based on the teaser's implication that two kids disappeared while riding their bikes. Ejogo's Amelia also seems to have a connection to Wayne's case, as outlets have described her as being tied to "two missing children in 1980."
True Detective showrunner and creator Nic Pizzolatto returns as the season's director alongside Jeremy Saulnier and has also written the majority of the season. It's too early to say, but the third season may have the ingredients to recreate the success of True Detective's inaugural year. McConaughey probably won't show up to say things are "all right, all right," but the story seems to be in good hands with Ali.
Season 3 of True Detective premieres on HBO in January 2019.