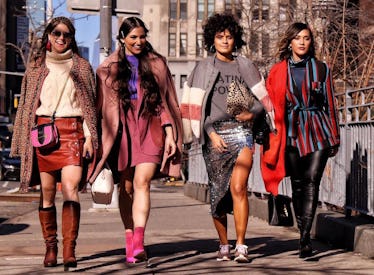 These Were The Biggest Fashion Trends I Saw On The Streets Of New York Fashion Week
New York Fashion Week is always a fun time of the year. Fashionistas from all over the globe flock to the Big Apple to see the next season's trendiest clothes in person and to reunite with fellow fashion lovers that they haven't seen since last season. But most importantly, everyone comes set to slay their street style looks. After all, if you're not walking down a runway at NYFW, the sidewalk is the next best thing. And while everyone — and I mean everyone — looked fabulous the whole week, these were the trendiest street styles I saw at NYFW.
Mixed textures and prints, bright colors, snakeskin, and neon were just a few of my favorite trends from this season's street styles. When I had time, I would stand outside of Spring Studios and people watch, just so I could see the different takes on the various street style trends that were popular this season.
While people got more adventurous and bold with their style during fashion week, I could definitely still see their personality and core sense of style in whatever they were wearing. If you decide to take on these trends, make sure you bring a little bit of your own uniqueness into the mix — that's what makes trends so special.