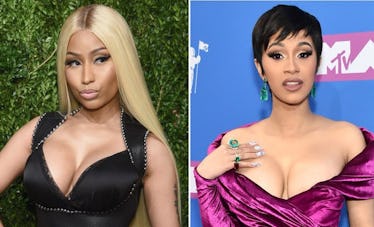 The Timeline of Nicki Minaj & Cardi B's Feud Is Actually An Emotional Roller Coaster Ride
DIMITRIOS KAMBOURIS/GETTY IMAGES ENTERTAINMENT/GETTY IMAGES | MIKE COPPOLA/GETTY IMAGES ENTERTAINMENT/GETTY IMAGES
Celebrity relationships and friendships are a rare breed. These famous faces have their lives played out in front of the masses, whether it's the good, the bad, or the straight-up shady. In Elite Daily's new series, It's Complicated, we're highlighting the biggest celebrity "feuds" that took over Hollywood and dominated our Sunday brunches for weeks on end. We'll take a deep dive into the lives and social media feeds of our favorite stars and dissect what happened in front of the camera, what went down behind the scenes, and everything you might have missed in between.
It's no secret that Nicki Minaj and Cardi B have been feuding for quite a while. But how did it all get started? Who was the instigator? And how did it ever come to a point where things got physical? Well, it's a bit complicated, to be honest with you. Given how much has gone down behind the scenes, I've compiled a comprehensive timeline of Nicki Minaj and Cardi B's feud that'll certainly clear some things up for you.
So, where did it all start? Let's take a trip down memory lane all the way back to 2017 when shade was being thrown left and right and the feud to end all feuds got its start.
October & November 2017
Up until October 2017, things between Minaj and Cardi were more or less smooth sailing. Sure, there were rumors about them slinging mud and dissing each other in their respective tracks. But as far as the public knew, that was just your run-of-the-mill music industry competition between female rappers and not to be taken too seriously.
But when Migos released "MotorSport" in October 2017, a track that featured both Minaj and Cardi B, things between the two rappers started heating up over some behind-the-scenes drama.
In November 2017, Cardi did a studio interview with The Norte Show on Capital Xtra and said that when she initially heard the track, Minaj's verse was different.
"When I heard the track, her verse wasn't finished. It was not the verse it was right now," Cardi said. "Quavo told me to get on the song. I felt like it was a perfect opportunity to be big like them."
It's not totally clear what exactly Cardi was getting at with her comments. While Cardi's comment could seem innocent in theory, to some, it seemed that she was saying Minaj had more time to work on her verse, while others think Cardi was annoyed that Minaj's final verse wasn't what she originally signed on to be part of.
In the video from Cardi's Capital Xtra Interview, you kind of get the sense that she and Minaj weren't exactly on good terms:
The "MotorSport" situation didn't end there, though. It resurfaced in April 2018.
April & May 2018
In April 2018, Cardi made her stance on the feud really clear during an interview on Beats 1.
"I just feel like it's really internet-made-up," she said. "I really feel like fans and people, they really want to see that happened, because it's really entertaining to see people beef. It's entertaining. Like, I ain't gonna front, when Nicki and Remy [Ma] was beefing, everyone was turning and asking, 'What's next? What's next?'… But I don't really have the time for that. If you not f**king my man, or if you're not taking my money from me, if you're not stopping my money, then I don't really give a f**k about you."
Not long after, Minaj also gave an interview on Beats 1 and said that Cardi's claims about her "MotorSport" verse were hurtful.
"The only thing with Cardi that really, really, really hurt my feelings was the first interview she did after 'MotorSport' came out," Minaj said. "The first interview she did after 'MotorSport' came out, it just really hurt me. She looked so aggravated and angry and the only thing she said was, 'Oh, I didn't hear that. I didn't hear that verse.' I was like, 'What?'"
Minaj also brought up the situation on Twitter. Here's what she tweeted:
After that, things between the rappers calmed down and they even exchanged some words at the Met Gala on May 7, which seemed to ease the tension between them.
Everything seemed to be going smoothly all summer, and then the Harper's Bazaar New York Fashion Week party happened. And it was not good.
September 2018
In early September 2018, Cardi and Minaj were attending the very same New York Fashion Week Party for Harper's Bazaar. While details on the entire situation are still pretty scarce, the media reported that an altercation broke out between the two rappers and that Cardi threw a shoe at Minaj. Elite Daily reached out to Cardi B and Minaj's team about the altercation at the time, but did not hear back by the time of publication.
Here's a video of the incident:
Once the story hit the media, Cardi took to Instagram to explain her side of things:
Elite Daily reached out to Cardi and Minaj's teams for comment on this Instagram post at the time, but did not hear back by the time of publication.
Some days later, Minaj also decided to speak out on an episode of Queen Radio.
"The way [these upper echelon people] passed by looking at this disgusting commotion, I was mortified," Minaj explained. "How we, and I'm going to use WE loosely, made ourselves look was mortifying." She then went on to address her alleged comments about Cardi's daughter Kulture. "I would never talk about anyone's child or parenting. I don't care about anyone's parenting," Minaj said of Cardi's accusations. "I am not a clown, that's clown sh*t."
Elite Daily reached out to Cardi and Minaj's teams regarding these comments at the time, but did not hear back by the time of publication.
October 2018
In October 2018, Minaj added even more fuel to the fire by selling merchandise that seemingly mocks Cardi. Here's a look:
Elite Daily reached out to Cardi's team for comment on Minaj's merch, but did not hear back by the time of publication.
And that, folks, is where the feud sits right now. Something tells me it's not quite over. I guess everyone will just have to wait and see.