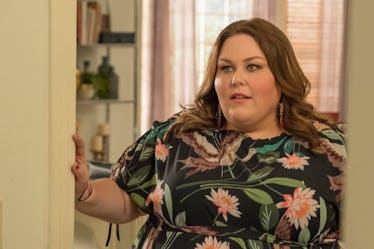 The 'This Is Us' Season 2 Finale Will Be Kate's Wedding, So Get Your Tissues Ready
NBC
This Is Us returned after an Olympic-sized hiatus with a far more lighthearted episode than the ones that came before. (Lighthearted by This is Us standards, that is. I only cried once.) The episode revolved around a trip to Vegas for engaged couple Toby and Kate's respective bachelor and bachelorette parties, including a scene at Magic Mike Live and Toby's complete inability to get into a club. But if the pre-wedding festivities are now over, that means the wedding can't be far off, can it? Turns out it's going to be part of the This Is Us Season 2 finale, as actress Chrissy Metz (who plays Kate) revealed.
This being This Is Us, the night was not all laughs. Kevin spent the episode struggling to stay sober. Randall and Beth had a blowout argument, worrying fans they might divorce. (Randall tells Kate it's actually something that happens every few years, it's just that usually it's not in a room with oiled up male strippers.)
Most importantly, we learn that Toby has a brother who dislikes him so much he refused to come to the bachelor party, which only makes meeting him at the wedding all that much more interesting. That's why this party was so important to him, because he wants Randall and Kevin to be the brothers to him that his own sibling won't.
Teasing the upcoming wedding to Entertainment Weekly, Metz said meeting Toby's family will be interesting. "His parents are everything and nothing you'd expect!"
Metz also revealed why the bachelor and bachelorette parties were so hard for Kate and Toby to deal with, leading both parties to feel oddly neurotic.
Well, they've been really insular in their co-dependent relationship, and they've also been through a lot between Toby's health and the miscarriage. So, it's difficult to let people into hardships that they might not understand.
That being said, the cast had a blast doing the scenes at the strip club for Kate's half of the party. She was also grateful to finally get to do a one-on-one scene with Susan Kelechi Watson, who plays Beth, after the big blowout between her and Randall.
I would always love to be in scenes with Susan. Sometimes the story lines just don't allow that to happen... We had a great time shooting at Magic Mike Live. The dancers are incredible! And while Randall and Kevin would physically fit in, I don't know that that art form is their cup of tea.
As for the wedding, Metz and creator Dan Fogelman both have dropped hints that it won't quite be the big family celebration we're expecting, with Kate in the white dress, and Kevin and Randall one each arm escorting her down the aisle. Says Metz:
There is a bit of a twist, in true This Is Us fashion because the writers are genius. Tonally speaking: upbeat and joyous, through a very important catharsis.
Meanwhile, Fogelman outright tries to suggest that the wedding may not be a wedding after all.
Ultimately, we're culminating at a big, moving family event, which would presumably be Kate's wedding.
"Presumably," eh? That's never comforting, though I have my doubts that Fogelman would do two funerals in one season. Far more likely, the wedding will be exactly as anxiety-riddled and neurotic as the pre-wedding parties were, with extra doses of stress since there will be a ton more guests. Randall and Beth have at least gotten their big fight out of the way early, but that doesn't mean Kate and Toby won't have freak-outs, or that Kevin will find himself struggling once more with the temptations of an open bar.
This Is Us has two more episodes to go this season before the long wait for Season 3 begins.