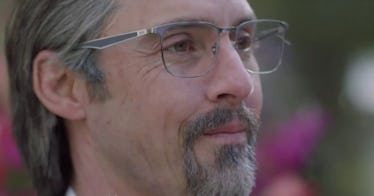 The 'This Is Us' Season 2 Finale Will Be A "What Could've Been" Episode & We're Not Ready
NBC
Somehow, amidst surprise reunions with Deja and heartbreaking funeral flashbacks, we're finally approaching the Season 2 finale of This Is Us. What with the show's holiday and Olympic breaks lasting what felt like forever, I'm still in denial that the season is nearly over, but I'm ready for an emotional cap to some of its current storylines. An executive producer has spilled that the This Is Us Season 2 finale will highlight the story's "what could have been" elements, but I'm still not OK about the idea of Old Man Jack appearing at Kate's wedding.
Photos of Milo Ventimiglia in old age makeup alongside Mandy Moore hit the internet before the preview for the season finale even aired, sending fans into a frenzy about what the appearance of an elderly Jack meant for Kate and Toby's big day. Logistically, the cameo probably isn't as complex as we may think (or secretly wish it to be), and the older Jack will likely appear in a dream sequence of Rebecca's or even Kate's. Executive producer Isaac Aptaker confirmed to Variety that the show isn't introducing "BS where Jack has secretly survived":
We're not playing any games, but I will say that seeing him was one of the most visceral punches that I think we ever had. It's so powerful and poignant and haunting and tragic all at once... It's about how a family can experience an incredibly tragic loss and still fight through it and move forward and find happiness and joy. They can remember the man they lost and still live the lives he would have wanted them to live — lives that just aren't about grieving him.
However, going off Aptaker's hint of the episode exploring "what could have been," it's always possible that the show will bring back its alternative timeline flashbacks and tease how the wedding would be if Jack had survived the 1998 fire. We saw this concept when, in another Season 2 flashback, William confessed to Randall that he nearly brought himself into his young son's life, prompting "what could have been" snippets of William celebrating Christmases and other milestones with the Pearsons. Could the show awkwardly forego Miguel's current place in the family and provide a brief insight into a 2018 where Jack and Rebecca are still married?
Whatever explanation's in store for Jack's present-day appearance, Aptaker emphasized that "The Wedding" will bring fans "hope and joy and optimism," as well as just enough drama to keep us entertained. Randall and Beth are still reeling from Deja's mother leaving her daughter with them, while Rebecca will suffer from anxiety rooting from her complicated relationship with Kate. Discussing Rebecca and Kate, Aptaker said:
Their dynamic took a huge leap forward when Rebecca flew across the country to help Kate deal with her miscarriage, but [she] knows that her very existence is so fraught for her daughter. She's always stepping in it with her, and she doesn't want — in any way — to disrupt this perfect day for her daughter.
Meanwhile, in true loyal brother fashion, Kevin will do his best to make sure wedding planning goes smoothly. After his season-long struggle with addiction, Kevin seems to have hit a high point in his rehab process, particularly after leaving Toby's Vegas bachelor party unscathed. I'm still waiting for more backstory explaining why I should care about his relationship with Sophie, but hopefully more of their relationship will be explored in Season 3 alongside the origin story of Rebecca and Miguel.
While Jack as an old man will probably destroy my emotions, I am excited to see if This Is Us drops an unpredictable reason for his 2018 appearance. It's safe to say that if writers cite his presence to a character hallucinating again, I would be a little disappointed. Nonetheless, time to get those tissues ready!
This Is Us wraps up Season 2 on Tuesday, March 13, at 9 p.m. ET on NBC.