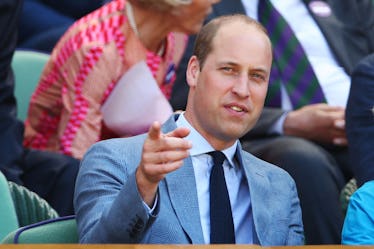 Here's How Prince William Got That Harry Potter Scar On His Forehead
Clive Brunskill/Getty Images Entertainment/Getty Images
Prince William is as British as it gets. While I've never really paid any attention to the Duke of Cambridge's forehead, it turns out the future king of England has a huge scar that he refers to as his "Harry Potter scar." A 2009 interview reveals the story behind Prince William's Harry Potter scar, and it's the farthest thing from the actual story of "Harry Potter" I can think of. So don't let his nickname for the scar make you think the story has any ~magical~ qualities – he literally just got smacked in the head with a golf club.
Ironically enough, Kate Middleton, Duchess of Cambridge, has a scar of similar size on her temple, just a few inches above where Prince William's scar is on his forehead. Kensington Palace confirmed in 2011 that the scar was a result of an undisclosed surgery Kate had when she was a child. Prince William got his scar when he was 13 years old while playing golf with a friend. The interview during which Prince William revealed his scar is actually a heartwarming story.
The interview was conducted by a 10-year-old girl named Alice who was a cancer patient at the Royal Marsden Hospital at the time. "I call it [my Harry Potter scar] because it glows sometimes and some people notice it — other times they don't notice it at all," Prince William told Alice. He continued,
I got hit by a golf club when I was playing golf with a friend of mine. We were on a putting green and the next thing you know there was a seven-iron and it came out of nowhere and it hit me in the head. So, yeah, I was in hospital for that, but that was very minor compared to how many times you've been into hospital.
The scar is just a little bit above his left eye and is about three inches long. You can see it pretty clearly here.
The Duchess of Cambridge's scar is behind her hairline on the left side of her head, but the palace has never revealed what the cause for her surgery was.
You can see Kate's scar clearly here.
Apparently, when Kate's scar was first noticed in the public, there were rumors that the mark wasn't a scar, rather hair extensions. But Kensington Palace cleared up the rumors in a statement revealing the origin of the mark.
A spokesperson for the royal family told E! News at the time, "The scar is related to a childhood operation." And just like that, the "scandal" referred to as "extensiongate" was put to rest. (Yes, that's really what it was called. Apparently, the thought of Kate Middleton wearing hair extensions was considered pretty scandalous by some.)
The Daily Mail cited sources at the time saying the surgery Kate underwent as a child was probably a "very serious operation," but the outlet also cited a surgeon that said, "I really doubt it was any serious medical condition and I would say it is as a result of an arteriovenous malformation—a birthmark—being removed."
So, there's that. William and Kate have nearly matching scars on their heads that are the result of things that went down in their childhoods. The couple that has nearly identical scars on their heads together, stays together.