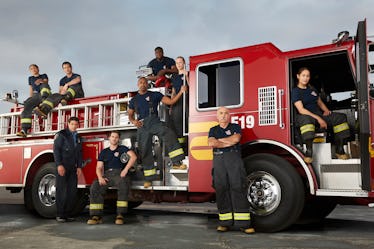 The 'Station 19' Season 2 Teaser Hints At A 'Grey's Anatomy' Crossover, So Get Ready
ABC
Grey's Anatomy's two-hour premiere was a perfect time for ABC to promote the new Shondaland show which is permanently taking over the old Scandal time slot starting next Thursday: Station 19. The series, which is set in a Seattle firehouse not far from Grey Sloan Memorial Hospital is the second direct spinoff of Grey's Anatomy ABC has tried. The first, Private Practice, lasted a solid six years. With the new series kicking off its first full year on the air, the latest Station 19 Season 2 teaser suggests the show isn't quite ready to cut the apron strings from the parent program.
Private Practice took Kate Walsh's Dr. Addison Montgomery and moved her down the coast to Los Angeles, keeping crossovers with Grey's Anatomy to a minimum over the show's run. New town, new place, new life, etc.
Station 19 takes Jason George's character, Ben Warren from Grey's, and trades in his doctor's scrubs for a firefighter's uniform. But he doesn't leave Seattle. He's married to Chandra Wilson's Miranda Bailey, for heaven sake, and she's not leaving Grey's Anatomy. The show is not only set in the same city, but the people the firefighters who work their rescue are transported to Grey Sloan Memorial Hospital, making regular crossover guest spots not only inevitable but natural.
These are still his co-workers, after a fashion, in the same business of saving lives. Warren just interacts with them from a different angle now.
The end of Station 19 Season 1 ended on a cliffhanger, as a giant skyscraper fire put the lives of everyone trying to control it in danger. Several of the cast, including Travis (Jay Hayden) and Jack (Grey Damon), are suggested to may have been lethally injured.
The Season 2 premiere picks up right where the show left off. TV Guide breaks down the clues for the first episode:
The firefighters from Station 19 are still stuck inside the inferno in the trailer until the ones we already knew were safe make it to Grey Sloan Memorial, where Meredith (Ellen Pompeo), Bailey (Chandra Wilson) and Maggie (Kelly McCreary) are all waiting for them. It even looks like Miller (Okierete Onaodowan) is trying to throw some sexy eyes in Maggie's direction, so we can't wait until he meets Jackson (Jesse Williams).
Station 19's first season only consisted of ten episodes (as opposed to Grey's Anatomy's 24 installments) but it kept a decent pace with the parent show. Grey's regularly pulls in around 7 million viewers a week on average, Station 19 spent its first season averaging 5 million a week.
But ABC isn't trusting Station 19 to run before it can walk, and during the postseason upfronts back in May, ABC Entertainment president Channing Dungey promised the two shows are planning to cross over semi-regularly, in both the 8 p.m. ET Grey's Anatomy hour as well as the 9 p.m. ET Station 19 hour that directly follows.
The Station 19 Season 2 premiere at 9 p.m. ET on Oct. 4, 2018, right after Season 15 episode 3 of Grey's Anatomy.