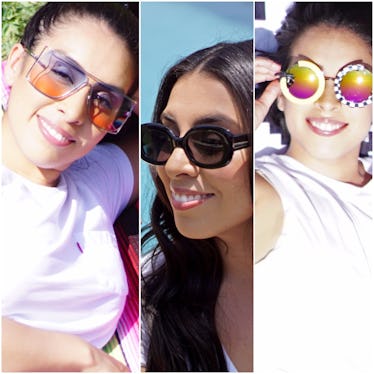 I Made A White T-Shirt & Jeans Look Amazing With Just Statement Sunglasses & You Can Too
Stephanie Montes
As much as I love to put a certain amount of thought into every outfit I wear, sometimes I just have to resort to a plain white tee and a pair of jeans. It's about as basic as an outfit can get, but on days when I just can't be bothered to match a blouse with a skirt, it works just fine. However, I have a styling trick that takes this afterthought of an ensemble to the next level: I pair my simple look with the statement sunglasses trend. I'm talking sunglasses that are a showstopper on their own. Trust me, there's nothing like a cool set of frames (or no frame at all) to give your outfit that I-woke-up-like-this, too-cool-to-care, model-off-duty feel. Besides, if you're anything like me, your tee-and-jeans look likely comes with no makeup and more bags under your eyes than you care to show off. Luckily for us, sunglasses not only make your outfit look cool, they hide those annoying under-eye bags too.
Whether you're into classic styles, modern shapes, or funky prints, there's no limit to where this season's coolest sunglasses can take you. Here, I took my favorite trends for a spin, and paired them with none other than basic jeans and tees, and you know what, I've never felt cooler. Ahead, five sunglass styles you need to try asap — even of you can't think of a cute outfit to wear them with.
Tinted Lenses
Lenses in every hue are about to blow up this summer. Whether you prefer the small, oval-shaped sunnies inspired by the '90s, or larger-than-life lenses, reach for a pair with a transparent Technicolored tint.
I'm obsessed with these Privé Revaux Candy sunglasses ($30; priverevaux.com). I don't know if it's the hot pink tint, rose gold frame that can be worn slung low on your nose, or the transparent lenses, but something about these frames make me feel like Barbie in the best way.
Quay x Kylie As If Sunglasses ($65; shopbop.com)
Modan Carla Colour Sunglasses ($230; revolve.com)
Quay Eclipse Sunglasses ($39; revolve.com)
Karen Walker One Splash Sunglasses ($80; nordstromrack.com)
Embellished Frames
When more is more, these frames do all the talking. Because there's nothing like a pair of encrusted sunnies to dress up a tee and jeans, here are some of my favorite styles to make you feel your most extra.
Although these Happy Socks x Sunday Somewhere Fun In The Sun Sunglasses ($229; happysocks.com) have only a single palm tree embellishing the frame, the contrasting prints make them a standout pair.
Free People Feel The Groove Embellished Sunglasses ($30; freepeople.com)
Free People Debutante Embellished Sunglasses ($148; freepeople.com)
Steve Madden SMR88404 Sunglasses ($36; stevemadden.com)
Happy Socks x Sunday Somewhere Pink Flamingo Sunglasses ($189; happysocks.com)
Sporty Shades
This one goes out to the early 2000s babe who lived for oversized frames. Taking on a more ski-goggle, sporty look, the oversized shades of today either come in aviator shapes, feature color-changing mirrored lenses, or wrap-around frames.
I can't stop wearing these Privé Revaux The Jagger Sunglasses ($30; priverevaux.com) because they're super sporty and on trend, but still feel feminine and wearable. The orange-to-blue gradient on the lens feels super playful and pairs with jeans perfectly (even with white jeans!).
Oakley Wind Jacket 2.0 Snow ($153; zappos.com)
ZeroUV Retro Modern Oversize Novelty Mirrored Lens Shield Visor C453 ($13; shopzerouv.com)
Carrera Glory Aviator Sunglasses ($209; mytheresa.com)
Classic Black Sunnies
There's nothing more French girl chic than a pair of black sunglasses to complete a jeans-and-white-tee ensemble. The darker the lens the better, but the frame is where you show your personal style. Whether you prefer a dramatic cat eye or something a bit more modern, just be sure to choose a black-on-black frame and lens pairing.
These 12th Tribe City Chic Black Sunnies ($24; 12thtribe.com) instantly upped the cool factor of my simple outfit — plus, the dark lenses are perfect for people watching. You're welcome!
Sunglasses ($13; hm.com)
Parkie Slim Oval Sunglasses ($10; urbanoutfitters.com)
Futuristic Retro Sunglasses ($18; zara.com)
Plastic Cateye Sunglasses ($8; forever21.com)
The Go-To Aviators
It's all very Top Gun, but even 32 years later (yeah, how old do you feel right now? Also, same!), the aviator style is still going strong. Although they seem like a straightforward shape, aviators come in so many colors, shapes, sizes, and lens finishes.
An updated look on the classic aviator, these Do Lab Blue Aviator Sunnies ($28; 12thtribe.com) are two trends in one (shoutout to the tinted lens trend above).
ASOS Split Lens Aviator Fashion Sunglasses ($14; asos.com)
ASOS Black Metal Aviator Fashion Sunglasses With Orange Lens ($19; asos.com)
Boogie Down Aviator Sunglasses ($20; urbanoutfitters.com)
Laguna Aviator Sunglasses ($25; freepeople.com)
There you have it people: photographic evidence that the simplest outfit of all time can be easily punched up with summer sunnies. Being shady FTW!