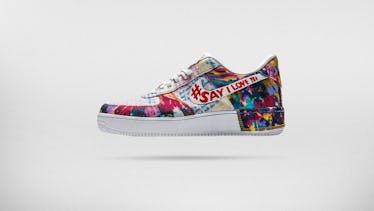 The Shoe Surgeon & The Dr. Brandt Foundation Created A Stunning Sneaker For Mental Health Awareness
Courtesy of Dr. Brandt
According to the CDC, about 50 percent of Americans are diagnosed with some type of mental illness at any given point in there lives, and the National Institute of Mental Health cites major depression as one of the most common types of mental illness. Despite the taboos that have, and still do, surround receiving treatment for mental health issues, TIME reports that the amount of students seeking out help in that area is growing pretty quickly. And now, the Dr. Brandt Foundation and The Shoe Surgeon have collaborated on a new project to, hopefully, make getting help for mental health issues even more accessible for some college students.
It arguably goes without saying that, for many, college can actually be an incredibly stressful time for students and take an alarming toll on their mental health. A 2015 study reports that depression affects 7 to 9 percent of college students, while anxiety affects 11 percent. Another report from the Center for Collegiate Mental Health (out of Penn State) in 2015 found that, when asked to identify the top concern reported by each of their clients, clinicians at the university counseling centers reported anxiety and depression as the most common concerns of clients visiting the centers. (According to the same report, this finding came from a pool of 37,856 clients.)
Considering the prevalence of depression and anxiety, in addition to other mental health issues on college campuses, it's crucial that universities are able to provide the proper resources for students seeking treatment. That's why one of the many missions of the Dr. Brandt Foundation, in partnership with the Miami Foundation, is to raise funds to support both research and raising awareness about issues relating to mental health and the prevention of suicide. This year, the foundation has announced an exciting new collaboration that will hopefully bring even more awareness to mental health issues and support mental health initiatives on college campuses in a big way.
On Friday, Dec. 7, 2018, at the Art Basel international air fair in Miami, Florida, the foundation will unveil their partnership with artist and footwear designer, Dominic Ciambrone, more widely known as The Shoe Surgeon on Instagram and founder of Surgeon Studios. You've likely seen Ciambrone's stunning sneaker creations take over social media, as the artist constantly partners with brands and celebs (Pharrell Williams, Lebron James, Pizza Hut, and Jack Daniels, to name a few) to create custom, one-of-a-kind artistic sneaker creations and bring deeper messages to life with them.
For their current partnership, the Dr. Brandt Foundation and Ciambrone sought out to raise awareness about mental health issues with a custom Nike Air Force 1 sneaker, called the First Edition #SayILoveYou Sneaker, that actually showcases Ciambrone's own very real experience living with depression and anxiety. According to the foundation, this creation, which even features Ciambrone's own handwritten story as one of the design elements, also represents "the positivity of finding a way to channel those feelings," which, in the end, resulted in Ciambrone's "beautiful masterpiece."
"Using the classic Air Force 1 silhouette as my canvas, and my personal experiences as my medium, I collaborated with @drbrandtfoundation to create a custom sneaker to help share my story with you all. Each panel is illustrated with the emotional details of the journey that got me to where I am today," Ciambrone wrote in a caption on Instagram. "I'm so grateful to have a platform that allows me to drive conversations and spread awareness around such an important issue as mental health. #sayiloveyou."
The moving, colorful creation, with the words #SayILoveYou emblazoned across the iconic Nike check mark, will be up for sale on Ciambrone's website, theshoesurgeon.com, for a pretty hefty price: $2,500. But once you hear the reason why, you'll understand the importance of this initiative.
According to the foundation, all of the proceeds from the sale of this creation will be donated to the University of Miami to fund "community partnership mental health programs," so that students battling mental health issues, like Ciambrone, can seek proper treatment and experience the best quality of life possible.