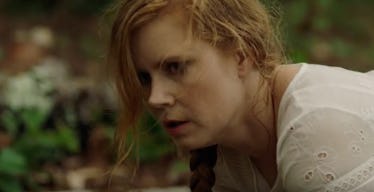 The 'Sharp Objects' HBO Trailer Is Here & Amy Adams Has Never Been More Intense
HBO
Get ready for your humdrum Tuesday to get a whole lot eerier, because the Sharp Objects HBO trailer is a chilling tease for the upcoming miniseries that is sure to leave you with goosebumps. Amy Adams stars in the eight-episode limited series, which is based on the 2006 Gillian Flynn novel of the same name. Flynn is the mind behind twisted mysteries like Gone Girl and Dark Places — both best-selling books that were later turned into films. Judging from Adams' constantly distressed look and the fact that her character is investigating the killing of two young girls here, it looks like this project is one of Adams' most intense roles to date.
According to HBO, the "series tells the story of reporter Camille Preaker (Adams) who returns to her small hometown to cover the murders of two preteen girls. Trying to put together a psychological puzzle from her past, she finds herself identifying with the young victims a bit too closely."
The haunting trailer shows Camille, who was recently released from a psychiatric hosptial after battling self-harm, is dealing with all kind of scary scenarios. She's looking at "missing" signs, gasping for air in a bathtub, and appears to be in a forest among some worms at one point. There are also flashes of a dark wooded area, blood drops, and an old dollhouse — all tell-tale cinematic signs that something creepy this way come, yes?!
"We need to talk about your daughters," Chief Vickery (Matt Craven) warns Adora — Camille's mother, played by Patricia Clarkson. "One of them is dangerous, the other one's in danger."
Sharp Objects is directed by Jean-Marc Vallée, who was behind the camera for the first season of HBO's Big Little Lies. The project was adapted by Buffy, the Vampire Slayer writer and producer Marti Noxon. Marti is also known for UnREAL, Girlfriend's Guide to Divorce, and Dietland.
"I think it will scratch that same dark, murder-mystery itch," Noxon says of the comparison to 2016's mega-hit thriller Big Little Lies. "But Sharp Objects is so its own thing, and it could reach a different audience too. This is for everyone." She also describes the narrative as an "emotional ghost story."
Amy Adams explained tapping into Camille's complicated psyche for the part with The Wall Street Journal:
Most people have darkness and demons. And being able to see yourself in a character is just as valuable as being able to separate yourself from a character. Camille struggles and is still a good person. She's just never given herself permission to believe that, because she's been told how bad she is.
Adams has a versatile career tackling a variety of genres, plus, she can call herself a five-time Oscar nominee. She's proven she can play everyone from a Disney Princess to an alien-deciphering linguist a pageant contestant to Lois Lane. Could Amy add Emmy to her crowded resume of award nominations? Sadly she was not recognized for her role as handbag-selling Katy on Season 1 of The Office.
Sharp Objects promises to be a dark turn for the sunny actress, but perhaps fans will get a stylistic palatte cleanser courtesy of one of Amy's next projects. She's reportedly set to reprise her Giselle role in the Enchanted sequel, Disenchanted.
"It's counterprograming, and it creates all this great internal confusion because Amy is this ray of light," Noxon told EW of Amy's work in Sharp Objects.
If this latest trailer is any indication of what to expect, Adams' performance will be a thrilling force to remember. Welcome back to TV, Amy.
Sharp Objects will debut July 8 on HBO.