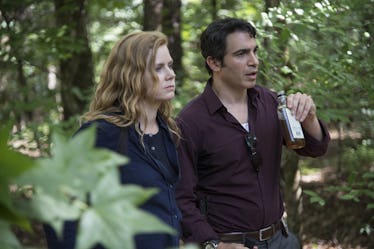 Next Week's Episode Of 'Sharp Objects' Shows A New Side Of Camille's Past
HBO
This week's episode of Sharp Objects took viewers back to an earlier time in Camille's life when she checked herself into rehab for self-harm and some of the memories tied up with the experience. But, as with every week, this is just another layer of the pain and hurt making up Amy Adams' character. Next week promises to peel back another layer, as Detective Willis starts prying for what Camille is hiding from herself. The Sharp Objects episode 4 promo for "Ripe" promises viewers may get an answer or two to questions from the premiere episode.
One of the interesting things about last week's episode was Camille's flashbacks to being hospitalized were more recent, making it a little hard for viewers to follow what was present day and what was a memory. This week promises the flashbacks will be far back enough Camille will be played by Sophia Lillis, making it easier to keep timelines straight.
The HBO-provided synopsis for this coming week's episode is as follows:
Camille agrees to show Richard some of Wind Gap's crime scenes, though the tour opens up old wounds. Alan confronts Adora about her sharing confidences with Chief Vickery, who is concerned about the Crellins hosting the annual 'Calhoun Day' attended by Wind Gap's youth. Fired from his job at Preaker Farms, John shares off-the-record revelations with Camille that raise fresh concerns for her.
Here's the trailer:
This past week Willis found himself going up against Wind Gap's police chief who wants to blame the murders on truckers, or out-of-towners, or immigrants. Anything to keep the blame off the people who knows and loves. But after seeing Amma's behavior at the end of the episode, Willis has realized what everyone else already knows. Camille is keeping a big family secret under wraps, and he has a feeling it might be the answer to the mystery.
As the trailer shows, his way of getting her to dig into those memories may be the most confrontational of anything Camille has dealt with upon returning home. He drags her out to the shed we saw her flashing back to in the premiere episode, the one with the pornographic images taped up on the dingy windows. This is interspersed with flashbacks of teenage boys chasing her down in the woods, while her younger self is seen entering the shed, still wet from the swimming hole.
While Willis is pushing Camille, the police chief seems to be doing damage control from the other end, making a house call to Adora to "talk about her daughters." Does he fear what Willis will uncover about the Crellin past? Or will his warning Amma is in danger turn out to be a precedent one? Will she be Victim Number 3?
If you or someone you know is considering self-harm or experiencing suicidal thoughts, call the National Suicide Prevention Hotline at 1-800-273-8255 or text HOME to the Crisis Text Line at 741741 or the Substance Abuse and Mental Health Services Administration (SAMHSA) at 1-800-662-HELP (4357).