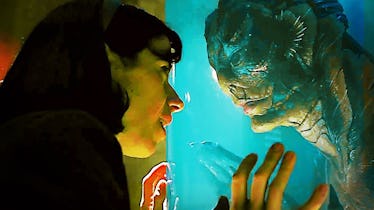 Here's What The Fish-Man From 'Shape Of Water' Looks Like In Real Life
Fox Searchlight Pictures
Love is blind, and such was the case in the Oscar-nominated film The Shape of Water. A mute cleaning woman (Sally Hawkins) working at a government lab in the 1960s falls for an amphibian creature kept in the workplace. While he looks otherworldly in the film, the person behind the Shape Of Water Fish-Man is obviously human and looks completely different IRL. If you're into silver foxes, actor Doug Jones is actually kind of hot while not portraying a creature straight out of director Guillermo del Toro's imagination.
Whether you knew it or not, you've probably seen 57-year-old Jones in other films before. The actor has had a lengthy career often portraying odd, almost supernatural characters in popular films. While he's currently playing a series regular in Star Trek: Discovery, Jones played Winifred Sanderson's zombie lover Billy in the classic Halloween flick Hocus Pocus. He previously worked with del Toro in films such as Pan's Labyrinth and Crimson Peak. This may be a stretch, but Jones seems to be to del Toro as Johnny Depp is to Tim Burton.
As the Amphibian Man in The Shape of Water, Jones brings the character to life with mere movement, having no lines throughout the film. Speaking to PRI, he shared his process in being confined to the unique costume throughout filming:
I had to quiet all of my human instincts. Words can often pollute or words can deceive. You can feel someone's ill intentions in their touch or their love in their touch, so the non-verbal falling in love actually made sense. When I'm in the suit, it'll be for a good 16 hours a day. So you have to make sure that you're not going to have a little accident. That is my biggest fear in the world.
While he isn't conventionally handsome, Jones has said that he relates to his Shape of Water character because of its physically unappealing exterior. Reminding us that we can all relate to such an isolated character, he spoke about the importance of sympathizing for the "other" in a situation:
We shouldn't demonize whatever the 'other' is. I grew up a very gangly, out-of-sorts kid. I was not one of the cool kids. I was made fun of relentlessly. Any one of us can relate to feeling like a monster at some point in our life.
Originally from Indiana, Jones worked as a mime early in his career, which explains his tendency to end up in roles that focus on physicality. While certain requirements of the Shape of Water role are familiar territory to him, this is the first time Jones has played a romantic lead. The tenderness of the unexpected romance in The Shape of Water particularly attracted Jones to the role:
I only love dark material if there's a redemptive quality to it. This beautiful story's unfolding in front of me, and this innocence and this connection of two souls [is] happening, and by the time we got to that bathtub [scene in The Shape of Water], I was like, 'I'm in.'
Jones may not be a total hunk, but anyone who manages to convince audiences that a human can fall in love with a fish-man must be a complete romantic at heart.
The film has received the most Oscar nominations for an individual project this year, and while it hasn't received too much love at mainstream award ceremonies, The Shape of Water has gained some steam in the Best Picture race against frontrunner Three Billboards Outside Ebbing, Missouri. Perhaps we have a chance of spotting Jones on the Oscar stage with the rest of his cast if the movie snatches up the night's top prize.
The 90th Academy Awards begin on Sunday, March 4 at 8 p.m. ET on ABC.