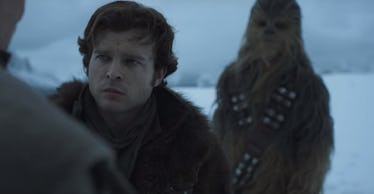 The Second 'Solo: A Star Wars Story' Trailer Is Here & Fans Can't Contain Their Excitement
Lucasfilm
With just over a month to go until the premiere of Solo: A Star Wars Story on May 25, we finally have a stronger grasp of what the new adventure story will bring us. After the first trailer debuted in February, loyal Star Wars fans had just enough of a glimpse of Alden Ehrenreich as young Han Solo to fuel their excitement for the movie's spring debut. However, that teaser focused more on introducing the younger version of an iconic character rather than the new plot. Now, the second Solo: A Star Wars Story trailer is here, and fans are even more excited for this new chapter of the Star Wars universe.
After its release this weekend, the full trailer offers a closer look at the other characters accompanying Han. The Hunger Games' Woody Harrelson is featured throughout the trailer as Tobias Beckett, Han's mentor, while Donald Glover is just as smooth and charming as smuggler Lando Calrissian as Billy Dee Williams was in the original franchise films. Emilia Clarke's Qi'ra, Han's childhood friend, also pops up, seemingly working alongside Han and Tobias on their mission. Of course, it couldn't be a Han Solo-centric movie without the rebel hero's witty exchanges with Chewbacca, and the conversations featured in this trailer definitely don't disappoint.
The specifics of this ragtag team's mission are still under wraps, but Han's monologue in both the new trailer and the first one suggest that Han seeks validation as a pilot after getting kicked out of the flight academy. The trailer includes Han exploring the Millennium Falcon, so he totally gets to pursue an adrenaline rush that we know he has always thrived on.
After seeing Ehrenreich roam the universe à la Harrison Ford, I'm totally on board with his portrayal of the character, and fans reacting to the trailer on Twitter seem to agree. The full trailer also seems to have alleviated some viewers' fears of Solo being way too experimental with beloved characters:
Of course, there's still plenty of hesitation about Ehrenreich's work in the film, but for these skeptics, Glover's portrayal of Lando could be their saving grace.
Proving that non-human characters are often our faves, fans have also tossed out plenty of love for Chewie's antics in the trailer. You know a character is beloved when fans are still worried about his fate, even though there are more than enough films confirming that he's completely fine.
The film, which also stars Avengers: Infinity War's Paul Bettany and Westworld's Thandie Newton, is set to premiere at the Cannes Film Festival this year, which probably wasn't foreseen earlier in Solo's process. The project's timeline was slightly disturbed when its original directors, Christopher Miller and Phillip Lord, left the creative team in June 2017. Filmmaker Ron Howard took over, putting the story in good hands. When the second trailer dropped, Howard retweeted several fans' reactions, also sending out thanks for such strong responses to the tease.
Howard is also still at work on the final touches of the movie, posting a photo of the sound mixing process before the new trailer was released.
You can never please everyone, but what we know about Solo so far is definitely winning over plenty of moviegoers. We'll have to wait and see if it'll be a worthwhile addition to the Star Wars canon, but I'm feeling optimistic. Han Solo totally has enough charm to make this work, right?
Solo: A Star Wars Story hits theaters on Friday, May 25. Here's hoping that we get a few more hints about the plot before then!