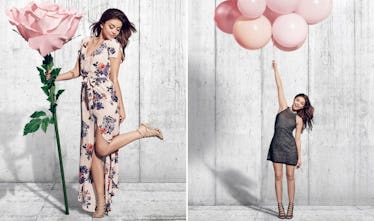 Sarah Hyland Designed The Perfect Spring Dresses & They're Actually Affordable AF
Courtesy of Candie's
Sarah Hyland is best known for her role as Hayley Dunphy on ABC's Modern Family. Dunphy is a ditsy, boy-crazy millennial but has a great sense of fashion, and IRL, Hyland also has great style (and is v smart). That's why the Sarah Hyland for Candie's spring collection is so unbelievably cute.
This is Hyland's fourth year as creative director of Candie's, and at this rate, I foresee many more collections to come. Hyland has been co-designing apparel with the Candie's creative team for years, but this collection marks her first footwear collection for the brand (there's a pair of metallic mules I've got my eye on). The Spring 2018 collection has flirty, floral dresses, embellished jackets, and fun heels and flats, and it's so affordable — prices top out at $60.
Candie's chose Hyland as the face and brains of the brand because the actress embodies the true Candie's spirit. "The Candie's girl to me is the ultimate girl-boss with an upbeat perspective. She is flirty yet professional, and fun yet responsible. She has everything in the world going on for her," said Hyland. "I'm so excited that our spring Candie's campaign resonates with the spirit of the original Candie's girl and encourages our fans to be spontaneous, adventurous and themselves in all forms," Hyland continued.
Hyland modeled some of her favorite pieces from the new collection in the spring ad campaign. My behind the scenes sources tell me this adorably fluffy dog's name is William and I want him.
There's William again! Hyland is spring and summer ready in that cold-shoulder floral dress, take a look at that and more of the goods below.
Floral Cold-Shoulder Swing Dress in Runway Garden Floral
($33; kohls.com)
Florals for spring aren't exactly groundbreaking, but black and white florals kind of are! As someone who always gravitates towards all things black and grey, I'm into this muted color palette. And it comes in plus size!
Floral Maxi Romper in Rose Party
$33, Kohls
If you prefer more colorful flowers, this asymmetrical maxi dress has you covered (literally). The best part about it, though, is that it's actually a romper! It's got shorts underneath the dress so you don't have stress about any nearby steam grates.
Embroidered Jean Moto Jacket
$44, kohls
A denim motorcycle jacket with all-over embroidery for under $50? Score. It's a light faded denim that's right on trend for spring and summer.
Roll-Tab Sleeve Long Blazer in Lavender Frost
$40, Kohls
One of Hyland's favorite pieces is this slightly oversized blazer. I love it too because of the floral lining on the sleeves — when you roll them up it's a fun extra pop.
Lace Up Open-Front Cardigan in Iron Gate
$25, Kohls
I bring a sweater with be pretty much wherever I go and anytime of year, so this grey cardigan is a nice alternative to a basic black sweater for spring.
Lace-Up Sweater in Peach Blush
$23, Kohls
This metallic knit pink top still has a bit of edge with the lace-up faux corset detail.
Bokchoy Floral Women's Mules
$60, Kohls
Step up your flats game with a pair of embroidered, metallic mules. My favorite part of mules is that you get the airiness of a sandal because of the open back, but you can hide your chipped toenail polish in the front.
Starlight Women's High Heels in Black
$60, Kohls
Got any weddings to go to this spring? Try out a statement sandal like this one.
Poke Women's Boot Heels in Taupe
$45, Kohls
One of my favorite shoes is this in between bootie-sandal. It's good for daytime or night, and the block heel and elastic band at the heel will give you extra comfort.
Thanks, girl!