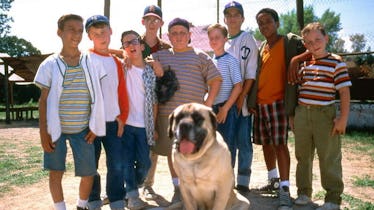 The 'Sandlot' Cast Reunited For The Movie's 25th Anniversary, So Yeah, You're Old
20th Century Fox
If the phrase "You're killing me, Smalls" is your go-to remark when someone's frustrating you to no end, then prepare to feel super nostalgic right now. The Sandlot turns 25 this year. Yup, the coming-of-age baseball movie that defined summer for '80s and '90s kids everywhere is now as old as Cardi B and Cole Sprouse. To make that milestone even more exciting, The Sandlot cast reunited in honor of the classic's 25th anniversary, so get ready to see Squints, Ham, and the gang all grown up.
The legacy of The Sandlot is a long-lasting one — the movie still holds up and the characters have become icons in the eyes of the children of 1993 who thought of the sports flick as the highest possible standard of filmmaking at the time. The cast dished on April 11's Today Show, discussing how the movie changed their lives and how it affects them even in 2018. "I mean, it definitely gets you in places for free. I can't walk through a Las Vegas casino without someone yelling 'Yeah-Yeah!'," Marty York, the actor behind Alan "Yeah-Yeah" McClennan explained.
The reunion included most of the original cast, minus Mike Vitar (Benny "The Jet" Rodriguez). David Mickey Evans — Sandlot's writer, director, and memorable narrator — also sat down to chat about his piece's timeless influence. "The film was made with the same amount of love that people have for it and it was the greatest summer of our lives," he remarked. Aww.
The boys — ahem, men — of Sandlot fame also did another reunion round for a recent Hollywood Reporter feature to serve up further sentimental anecdotes and insider info from the set. "We all snuck into Basic Instinct when it came out," they admitted. I'm thinking their characters would have done the same if given the opportunity.
Naturally, the new must-ask question when it comes to interviewing people behind entertainment favorites of the past came up: Will there be a Sandlot revival in the future? "Never say never," Evans remarked. "People seem to want it from the reactions I've gotten," Shane Obedzinski (Tommy 'Repeat' Timmons) chimed in. "I mean I know we're all interested in what could be..." "I'm in. You guys in?" Evans added. Um, I'm in. Does that count?
News of a Sandlot remake sparked last week when David Mickey Evans spoke to the Los Angeles Times about being approached with the possibility. He explained:
Recently, a young writer named Austin Reynolds sent me an idea for a Sandlot reboot and we're actually going into Fox in the next month or so and saying, 'Here's how we do it. Here's how we reboot the franchise and give it more life.' And I hope it works out.
Many of the young actors who faced "the Beast" in The Sandlot so many summers ago continued to work in the industry after the movie hit it big. Patrick Renna (Hamilton "Ham" Porter) was a familiar face of the decade and beyond, appearing in films such as Son in Law and The Mean Green, going on to land roles in TV shows like CSI and Boy Meets World. Tom Guiry (Scotty Smalls) also worked relatively steadily in the biz — you can catch him in Black Hawk Down and Mystic River. You might recognize Chauncey Leopardi, aka Michael "Squints" Palledorous, as Kyle from Gilmore Girls, and Alan White from Freaks and Geeks. Now he's a dad to a teenage daughter who he said thinks he's "just kind of a dork."
"I showed (my son) the movie for the first time," Renna said of his own kid's reaction to the cult classic. "Well, he's really big on Moana." Can't win 'em all! Never forget: Heroes get remembered, but legends never die.