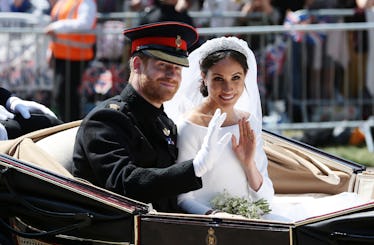 The Secret Way The Royal Wedding Photographer Bribed 10 Kids Into Behaving Is So Genius
WPA Pool/Getty Images Entertainment/Getty Images
Anyone who has tried to snap a few pics of a kid knows very well that little ones don't always cooperate when it's time for family photos. And no one knows this better than Alexi Lubomirski, who had the pleasure of photographing the royal family (and all those little kids) after Prince Harry and Meghan Markle, Duke and Duchess of Sussex, tied the knot. So, what was the royal wedding photographer's secret to keeping the kids still during the photo session? Candy!
Yep, they may be royal kids, but they're not immune to a little candy-related bribery. Apparently, Lubomirski encountered a bit of chaos as he was trying to set up the shots. According to People, here's how the photographer set the scene in a recent interview:
I've been asked by everybody, 'How did you control the kids?' And as we were setting up the big family shots, and I was placing The Duke of Edinburgh and Her Majesty onto their chairs, I could hear the kids started crying in the background and there was some chaos.
That sounds about right. I mean, wrangling 10 kids all under the age of 10 for a historic photo session is no easy feat! So, what did Lubomirski do? Well, he got crafty and thank goodness he did. Here's how he got all those kids to settle down:
Then I heard this magic word behind me that was Smarties, which is obviously an English Candy, much like M&Ms, and they were being bribed with one Smartie here and one Smartie there. So as soon as the kids came onto the set, I immediately just shouted out, 'Who likes Smarties?', and then everybody hands up, smiles, even some of the adults I think put their hands up.
What a genius move! And you know what? Lubomirski did the right thing because he only had 25 minutes to snap those beautiful photos. And luckily for him, the royal family is really just... a family, even in spite of their Royal status and protocol. It made the photo session all the more easy for Lubomirski:
There were lots of smiles. It was like a family room after a wedding, you know some parents were trying to wrangle the children, other uncles and aunts were talking to their nephews and nieces. It was a family, that was essentially what it is.
So beautiful! It's so wonderful to hear that Meghan, her mom Doria Ragland, and the rest of the family have become so close.
For those of you who don't know, Lubomirski was the photographer behind those incredible engagement photos of Harry and Meghan, so he has plenty of experience with this couple!
In any case, the wedding photos certainly give off the vibe that the family really enjoys each other, which is exactly what the photographer was after:
I wanted it to feel like a family picture, I didn't want it to feel too much like a sports team photo or an army sort of photo, very sort of regimented and linear. And so we talked about how we could break it a bit, and get some rhythm into the picture, and some asymmetry … and then also where we were placing people, we wanted some people sitting, some people standing, some kids on parents' laps. That was a huge thing for me to get that realness out of it.
Well, he definitely achieved that and the photos are incredible! Each member of the royal family looked very pleased to be there. And they all look so calm and natural. How can you not love it? The photos are beautiful.