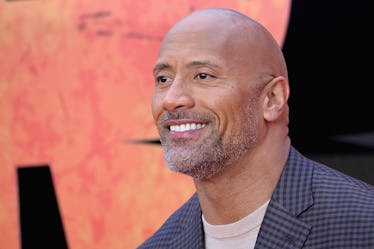 The Rock Just Landed His "Dream" Role In The Upcoming Movie 'The King'
Jeff Spicer/Getty Images Entertainment/Getty Images
Dwayne "The Rock" Johnson's versatile resume is impressive beyond belief. Not only did he kick off his career as a professional wrestler, he can call himself an action star, a comedy heavy-hitter, an author, and a singer. Johnson has so many professional achievements under that WWE Championship belt, but now he's about to embark on a project that holds immense personal significance to him. The Rock's role in The King has been his "dream" from the start. He's set to bring the iconic Hawaiian king Kamehameha to life on the big screen.
Kamehameha I, sometimes dubbed Kamehameha the Great, was the first ruler of Hawaii and is known for uniting the warring Hawaiian islands. His story will unfold in an epic upcoming biopic helmed by director Robert Zemeckis (Back to the Future, Forrest Gump). The Rock took to Instagram on Aug. 30 to express excitement for the part and share his gratitude. A portion of his caption read:
Dawning of a new day with hope and promise. Humbled & grateful to begin this once in a lifetime journey. KING KAMEHAMEHA - the legendary King was the first to unite the warring Hawaiian islands — fulfilling the prophecy that surrounded his fabled life since birth and creating the powerful & spiritual 50th state as we know it today.
He went on to explain why his casting meant so much:
From the day I began my Hollywood career (2001), my dream was to bring this legacy to life. In Polynesian culture we have a belief, that something isn't done when it's ready... it's done when it's right. The time is right. The one who walks alone.
Randall Wallace is attached to pen the script for the The King. Wallace is the writer behind Braveheart, Hacksaw Ridge, and Pearl Harbor.
A theatrical release date for The King has yet to be announced at this time. It appears Johnson will have to make room in his packed schedule to film his dream role — he's currently signed on for a handful of high-profile projects. Following the record-breaking success of Jumanji: Welcome to the Jungle, a third Jumanji installment is slated for December of 2019. He's currently shooting Disney's Jungle Cruise alongside Emily Blunt and will star in 2020's Red Notice with Gal Gadot. There's also the DC Comics Black Adam movie in the works. According to Johnson (via Variety), that "script is coming along." And don't forget about the Doc Savage adaptation. Did we mention San Andreas 2 is in development? I'm exhausted just thinking about coordinating The Rock's schedule. I didn't even bring up the fact that he has three children.
"The ambition to grow developed the moment I stepped foot in Hollywood," Johnson told Variety last year speaking about his early career. "I knew then I didn't have any experience as an actor. I cut my teeth and made my bones in the crazy world of professional wrestling, which built a live-crowd acumen for me, but that doesn't necessarily translate onto film. I knew I needed to understand the business from top to bottom, 360 degrees, and be a total sponge."
It looks like that ambition more than paid off. Now, The Rock is getting the chance to bring what he's learned over the years to the role of a lifetime.