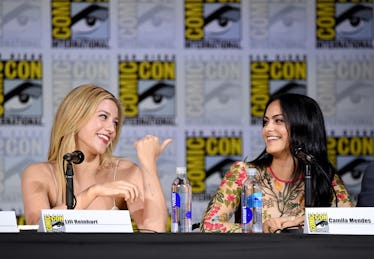 These Major 'Riverdale' Clues Have Been In Front Of Our Faces The Entire Time
Mike Coppola/Getty Images Entertainment/Getty Images
Next to the suspenseful drama seen on Riverdale, the cast's killer makeup is a totally valid reason to tune in to the CW teen series every week. Who doesn't envy Betty's ponytail game or wish that their brows matched the boldness of Veronica's? Although I may hunt down how-to's explaining how to recreate the girls' hair and makeup looks, I've never thought about how the Riverdale cast's makeup linked to the show's plot. According to the show's head makeup artist, Erin MacKenzie, the evolving beauty looks drop major hints about what lies in store for the gang.
MacKenzie, whose extensive career includes a brief stint in The Bachelor Canada's makeup department, spoke to Teen Vogue about her tricks for creating looks that mirror the writers' plans for the characters. Given that Betty Cooper's ponytail is seen as insight into her mental state, it's clear that this creative team is dedicated to creating visual hints that will keep viewers on edge. The show returns on Wednesday, Jan. 17, so now is the perfect time to figure out what you should keep an eye out for in Season 2's second half.
It's safe to say that, while all of the characters are facing a lot, Veronica (Camila Mendes) has gone through the most lately. After getting back together with Archie and helping to seemingly defeat the Black Hood, she's now in a place of confidence and power. "She's becoming a little bit more refined," MacKenzie said. "[Her makeup] is so subtle and only the keen makeup fans are going to really notice, but it's just enough to give her a little bit more control because she's starting to move into a more powerful place."
Take note, makeup gurus: the show has Anastasia Tinted Brown Gel to thank for her iconic brows. "We're really playing up her eyes and defining a little bit more on her crease," said MacKenzie, revealing that Veronica's eyeliner may become more intense depending on the current storyline. Gel liner intimidates me, but the Riverdale crew recommends IT Cosmetics Liner Love Gel Liner to recreate Veronica's eye look, and Mendes prefers a natural, plum-colored lip for the character.
Because life is never dull for teenage girls, Betty's (Lili Reinhart) inner turmoil is obviously reflected in her look too. MacKenzie said that the character is feeling threatened because "she's not really portraying her right Betty at this stage." This all-American girl will appear with more plum or cool neutral tones as things spin more out of control for her.
"When she's going through a lot of stress or sometimes trauma, we're really, really muting her down, so you're just seeing raw emotion of Betty, instead of this put together, polished girl-next-door," MacKenzie shared. While Betty's look will stay fresh and chipper, it will occasionally adopt a fierce red lip. As for trying out Betty's glowing face routine, there's a lengthy list of products the team swears by:
Similarly, Cheryl Blossom's (Madelaine Petsch) makeup colors will subtly shift as her emotions change. While she normally comes across as a fierce gal who knows what she wants, MacKenzie teased that the character will lose her iconic red lip again and retreat to a softer pink color when she becomes more vulnerable. Cheryl's usual badass look should also be interpreted as danger for other characters. Some viewers never know what to think when it comes to Cheryl, and the makeup team seems to take this into consideration.
"When we pump up her eye definition, bring her to a brighter, more like accentuated place in her makeup look, it's just trying to distract from what's really going on underneath," MacKenzie told Teen Vogue. "It's so subtle, but if you watch closely, you might see it."
When it comes to performer Josie (Ashleigh Murray), natural looks are key when the character is not onstage singing with the Pussycats. Few people can be glamorous 24/7, and Josie is no exception. "This season, she has a more natural look outside of her performance world to represent the control she takes on in the ever-changing life of Josie," MacKenzie said. Fame can certainly be fleeting, so this view of Josie's makeup is definitely understandable.
While you may have your fan theories already prepped for the midseason premiere, you might want to review your predictions with these visual clues in mind. It's clear that makeup on TV is much more than a method to look pretty!
Riverdale returns on Jan. 17 at 8 p.m. ET on The CW.