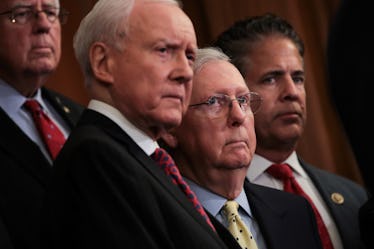 The GOP Is Trying To Get Rid Of Obamacare (Again) & It's So Underhanded
Drew Angerer/Getty Images News/Getty Images
Someone famous once said, "If you don't at first succeed, you must try, try, and try again." It seems like the GOP is taking that tactic very literally when it comes to repealing Obamacare. Despite continuously failing to dismantle the current health system, Republicans are giving it yet another swing — only this time they're doing it ever so quietly. The Republican tax bill would repeal Obamacare's individual mandate and the whole thing is just plain sneaky.
On Nov. 14, Republicans made a very notable tweak to their proposed Senate tax bill, aka the Alexander-Murray bill. The Affordable Care Act individual mandate, which dictates that all Americans sign up for health insurance or face a penalty fee, would be repealed if their bill passes. The senators claim that removing the mandate would add $338 billion over 10 years for their tax cuts.
It also seems like a very clear attempt to (once again) try to undercut Obamacare. The GOP has attempted to repeal the current health care system multiple times since Donald Trump became president — and has failed each time. The American Health Care Act, The Better Care Reconciliation Act, and the Graham-Cassidy bill have all died on the Senate floor, along with a straightforward attempt to repeal Obamacare altogether.
Democratic senators are already pushing back against removing the mandate.
Sen. Bernie Sanders (I-VT) slammed the bill, telling The Daily Beast,
The last thing we should be doing is providing tax breaks for billionaires paid for by throwing millions of Americans off of health insurance and raising premiums on middle class Americans.
Senate Minority Leader Charles Schumer (D-N.Y.) also warned the GOP that they cannot expect Democrats to pass the bill, especially given the fact that it includes a partial Obamacare repeal tie-in.
"It may help Republicans in the Senate give a larger tax break to the rich, but it hurts millions of Americans seeking affordable health insurance," Schumer said during a press conference on Nov. 15. "Any Republican senator who thinks they can pass the individual mandate and then turn around and get Murray-Alexander passed is dead wrong."
Meanwhile, Sen. Susan Collins (R-ME), who has helped block several iterations of Obamacare repeal proposals, seemed on the fence about removing the mandate. She told reporters on Nov. 15,
I am no fan of the individual mandate and I very much want to see tax reform. But I believe taking a particular provision from the Affordable Care Act and appending it to the tax bill greatly complicates our efforts. One of my concerns is that it will cause premiums in the individual markets to go up as healthier, younger people drop out.
I have new statistics that show that for some middle-income people, it will cancel out their tax cut. The increased premium would be more than the tax reduction they would get from this bill.
According to a Congressional Budget Office report released last week, nearly 4 million fewer people would be covered in the year following the repeal. By 2027, that number would climb to 13 million.
A coalition of health insurance providers, doctors, and hospitals sent a letter to Congress on Nov. 14, urging them not to remove the individual mandate.
"Repealing the individual mandate without a workable alternative will reduce enrollment, further destabilizing an already fragile individual and small group health insurance market on which more than 10 million Americans rely," the letter read. "Eliminating the individual mandate by itself likely will result in a significant increase in premiums, which would in turn substantially increase the number of uninsured Americans."
That already sounds really bad. The bill itself sounds even worse.
$1.5 trillion has been proposed in tax cuts, but in the next decade, almost $1 trillion of those cuts will go to corporations and businesses, leaving $500 billion behind for civilians. According to the Institute of Taxation and Economic Policy, the top 1 percent will receive the most generous portion of tax cuts, while the middle class will actually end up paying more overall.
Government officials and civilians have taken to Twitter to denounce the tax bill, which provides deep tax cuts to corporations and would raise premiums by 10 percent.
Here's hoping that the many headed beast attacking Obamacare is finally, finally laid to rest. And, you know, maybe a tax bill that benefits more than just wealthy people would be useful as well.