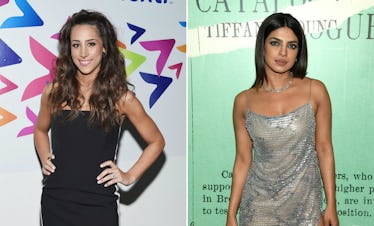 Here's The Real Reason Danielle Jonas Missed Priyanka Chopra's Bachelorette Party
Mike Coppola/Dimitrios Kambouris/Getty Images Entertainment/Getty Images
You should absolutely NOT get married if the only reason is that you want a bachelorette party, but I won't lie to you: they are ridiculously fun, and I try my hardest to make sure I attend those kinds of celebrations as frequently as time will allow. I mean, what's more fun than a group of girls in a fun location, wearing obnoxiously match-ey wardrobes and staying out too late? (Nothing. The answer is nothing.) So, I'm sure you're aware by now that Priyanka Chopra is engaged to Nick Jonas, and she recently celebrated her bachelorette party among friends, but her future sister-in-law, Danielle Jonas, wasn't in attendance. And the reason Danielle Jonas missed Priyanka Chopra's bachelorette party is totally understandable, but at the same time, I would never turn down an invite to literally anything Priyanka Chopra sent me, so I can't exactly relate.
Chopra went all out for her bachelorette party, living it up this past weekend in Amsterdam, celebrating with friends and her other future sister-in-law, Sophie Turner. She's Sansa Stark on Game of Thrones and happens to be engaged to Joe Jonas. You may have heard of her.
But when it comes to Danielle Jonas, the wife of Nick's older brother Kevin Jonas, she was nowhere to be seen and wasn't featured in any of the photos or videos that were posted to social media. I mean, check out this ABSURDLY good photo of Chopra looking like a damn dream, surrounded by her friends who were ~seeing red~ in the best way possible:
Do you see Danielle anywhere in that frame? No. No, you do not.
So what gives? Apparently, Danielle Jonas let the world know the reason why she couldn't come in a super direct way — by commenting on one of Chopra's Instagram photos, duh!
Chopra posted this epic photo of herself alongside Sophie Turner in sleeping masks that read "hungover" and, after a bachelorette party, I can assure you that you feel this sentiment on a spiritual level.
Chopra wrote, "The morning after... #TheJSisters#Bachelorette@sophiet":
Ugh, only these two can look this good after a weekend of debauchery. Also, can we just comment on how they are calling themselves "#TheJSisters" and how freaking amazing that is?
In the comments of that photo, though, Danielle Jonas wrote to Chopra, and explained to inquiring minds (read: me) the reason why she missed the shindig. "Moving to another house stinks," she wrote. "Wish I could have gone. I'm glad you guys are having fun!"
As I've stated before, I truly don't know how someone can turn down an invitation from Priyanka Chopra. It almost seems illegal.
And yet, here we are.
I get that moving is super stressful and difficult and, quite frankly, really exhausting, but if I've said it too many times already, I'm going to say it once more: ONE. DOES. NOT. MISS. AN. INVITE. FROM. PRIYANKA.
I mean, if Priyanka Chopra needed an extra person to make her Amsterdam bachelorette party complete, she should always know that she can call on me. I can be in the middle of moving — hell, I can be in the middle of getting married myself, literally reciting my vows — and I will drop everything to come and party. Do you hear me, Priyanka? I will drop it all!
No, no. Thank you. And thank you for your consideration.