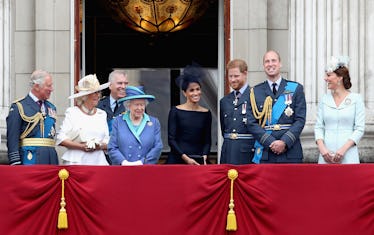 Meghan Markle's Biggest Royal Supporter Amid All Her Family Drama Will Surprise You
Chris Jackson/Getty Images Entertainment/Getty Images
Queen Elizabeth has Meghan Markle's back, at least according to an insider source who recently spoke to Us Weekly. Amid all the family drama surrounding the new Duchess of Sussex, the queen has her eyes set on making sure Meghan feels supported, loved, and welcome. And it's going a long way. The queen's response to Meghan Markle's continued family drama with her father Thomas Markle is really impressive.
To catch you up on said drama, here's what's been happening: Meghan's father, Thomas, has been giving paid interviews to the press since before Meghan married into the royal family. His shenanigans were revealed just before the wedding and Meghan has reportedly cut contact with him. Unfortunately for Meghan and the royal family, that tactic hasn't worked because Thomas continues to monetize his personal woes and troubled relationship with his daughter.
In light of all this, the royal family, and the queen especially, are reportedly doing everything they can to support Meghan. At least that's what a source close to the situation has told Us Weekly. Elite Daily reached out to the Kensington Palace for comment on this report but did not hear back by the time of publication.
In describing the situation, Us Weekly's source revealed that Meghan has struggled a great deal in reconciling her feelings for her estranged father.
"Meghan is absolutely broken by the drama with her father," a source close to the situation revealed to Us Weekly about the ongoing drama. "There's no way she can have a relationship with him or even reach out to him to stop him from speaking. She knows he'll record the conversation and sell it. She has high anxiety wondering if this will go on forever."
Even with all that's going on with Meghan's family, the royals have really stepped up to make sure she's being supported through all of this. Us Weekly's source revealed that Queen Elizabeth is especially sympathetic toward Meghan's plight.
"What may surprise some is just how supportive Her Majesty has been during the problems Meghan has faced with her family," the source revealed to Us Weekly. "Meghan is in a tough place, and the queen knows it's completely out of Meghan's hands. She has only sympathy for what's been a difficult and distressing situation for her."
Obviously, Meghan needs all the support she can get right now. Thankfully, her in-laws have her back. And it's not just for show, either. The insider source also revealed that the relationship between Meghan and the queen is a genuine one, even in spite of their generational and cultural differences.
"While Meghan and the Queen come from two very different backgrounds and generations, there's a warmth between the two that's genuine and loving," the source said.
It all just goes to show how amazing both the queen and Meghan are. It's so clear how much respect they have for each other and reports like this one just prove what a classy bunch the royal family is! So glad Meghan has all the support she needs during this difficult time.