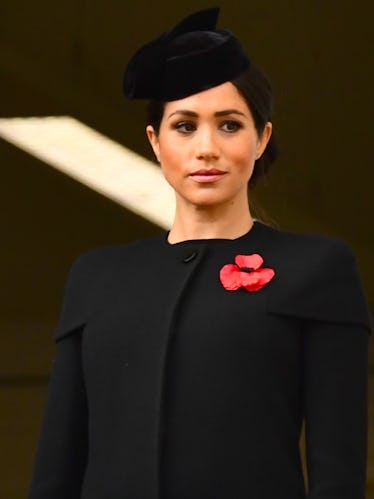 Here's Why The Queen Reportedly Doesn't Like Meghan Markle's Too Hollywood Fashion Sense
WPA Pool/Getty Images Entertainment/Getty Images
She has been spotted stepping out in wedges, bare legs, thigh-high slits, and super-short hemlines. And who could forget the perfectly messy bun she rocked on her own wedding day? Now comes the news that the Duchess of Sussex may be forced to tone down her ~rebellious~ style. Don't @ me — I'm just the messenger here. But the Queen's reaction to Meghan Markle's fashion sense is apparently not good, you guys. According to reports, her majesty is just not vibing with Markle's "Hollywood" style game and wants her to dress more like a royal. If this is true, way to be a buzzkill, Queen! Elite Daily reached out to the Palace for confirmation, but did not hear back in time for publication.
I, for one, am loving the way the Duchess of Sussex dresses. The shiny lip gloss, the spaghetti straps, the pantyhose skipping — I'm digging all of it. She's just so fun to watch, you know? And she is a former actress, after all. But now it looks like Markle's days of dressing like a gorgeous Tinseltown It Girl may be over, and I am really not here for this new development.
"Meghan is being told she needs to start dressing less like a Hollywood star and more like a Royal," a source told The Daily Mail.
Booooo.
According to the publication, the trouble reportedly started six months ago, when the Queen was "surprised" that Markle chose to wear white to her wedding to Prince Harry, even though she had already been married before.
I guess I wouldn't be shocked to find out the Queen is a traditionalist, but — news flash! — times are changing. Rocking a white dress for a second wedding isn't really even considered all that rare or rebellious anymore.
"The etiquette on white dresses for second marriages is now very fluid," Raishma, one of the UK's leading bridal designers and couture fashion experts, told Express at the time. "A lot of divorced brides choose to wear white again."
There was also that time in June that Markle failed to wear a hat during her trip with the Queen to Runcorn, Cheshire. Apparently, when the Queen's aides informed the Duchess that the Queen would be wearing a hat, it meant that she was supposed to wear one, too. Only it didn't happen.
Oops!
Then in August, Markle broke two more of the Queen's fashion rules by wearing an abbreviated black tuxedo dress — apparently, black is only supposed to be worn for mourning — to a special performance of the musical Hamilton. Not only was the dress super-short, but Markle accessorized it with her gorgeous bare legs.
And she wore a similar version of this style in white when she visited Courtenay Creative — a Wellington, New Zealand initiative that offers programs for students who want to break into the film industry — at the end of October.
She is legit stunning! And in case you hadn't noticed, ever since she announced that she was pregnant, Markle has pretty much been sporting bare legs and abbreviated hemlines on the regular. In fact, according to the Meghan Markle Fashion Blog, Meghan's Mirror, the Duchess wore a short, black maternity dress from ASOS that sells for just $56 (!) when she first arrived in Wellington with Prince Harry.
Check it out:
Meghan Markle — she's just like us!
BAHAHAHA yeah right.