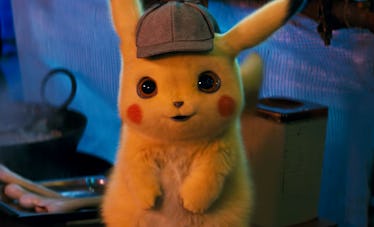 The 'Pokémon Detective Pikachu' Trailer Is Here, Starring Ryan Reynolds In His Pika Glory
Warner Bros
The world of Pokémon just got realer than it has ever been before. For the first time in over 20 years, Pokémon is going live-action with hyper-realistic CGI creatures interacting with human actors in real-world settings. Having trouble trying to picture that? Well, the Pokémon: Detective Pikachu trailer just dropped to give you a look at what a real world full of Pokémon would actually look like.
One of the most bizarre aspects of the first official trailer is Ryan Reynold's wise-cracking voice coming out of the small, furry electrical mouse Pikachu. As any Pokémon fan knows, Pokémon are only ever able to say their own name, the only exceptions being Team Rocket's talking Meowth and a few telepathic psychic-types here and there. Ash Ketchum's famous Pikachu actually did briefly speak English in last year's movie Pokémon the Movie: I Choose You!, much to the shock of everyone in the movie theater audience. But the yellow rodent definitely did not sound like Deadpool then.
The newly released trailer introduces us to Tim Goodman, played by The Get Down star Justice Smith. Goodman is a young man who has given up on his dreams of being a Pokemon trainer when his father went mysteriously missing. One night, he meets a Pikachu that he can completely understand, and finds out he is the only one who can hear him speak. Pikachu reveals that he has a knack for detective work, and the two team up to try to find Tim Goodman's father.
The most exciting part of the trailer, though, is seeing all of the Pokemon that fans have grown up with brought to life with realistic CGI. The trailer shows a group of Bulbasaur frolicking in a stream, an angry Jigglypuff next to a sleeping man, and a ferocious Charizard about to take a bite out of Pikachu. Oh, and if you thought that the movie would steer clear of navigating the uncanny valley with creepy, humanoid Pokémon like Mr. Mime... think again. Check out the full Pokémon: Detective Pikachu trailer below:
Detective Pikachu also stars Kathryn Newton as a reporter named Lucy Davis who joins Tim Goodman and Pikachu on their quest. Davis has a Psyduck as her partner, which we see a bit of in the trailer as well. The film has also cast Rita Ora, Suki Waterhouse, Chris Geere, and Bill Nighy in roles, but they have yet to be revealed.
For hardcore fans, another interesting element of the Pokémon: Detective Pikachu trailer is that it includes Pokémon from multiple generations of video games. Rather than just the original 151 Pokémon introduced in Generation 1 games Red, Blue, and Yellow, the trailer features more recent additions to the franchise, such as some threatening looking Greninja, a poster for a missing Pancham, a bouncing Rufflet, some floating Morelull, and a group of Emolga chilling on the top of a food stand. Those cameos mean that no Pokemon is off limits to appear in this movie.
Pokémon: Detective Pikachu is set to premiere on May 10, 2019.