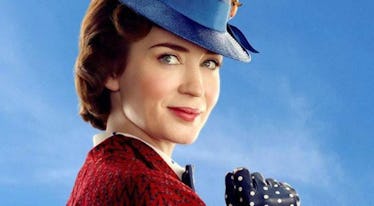 This New Song From 'Mary Poppins Returns' Will Hit You Right In The Feels
Disney
Mary Poppins Returns is shaping up to be Disney's smash hit of the holiday season. Early review tweets are practically ecstatic, and while full reviews are still under embargo, audiences have the sense this might be Disney first massively successful sequel to an old-school property in the company's 90-year history. Julie Andrews has given her blessing to pass the torch to Emily Blunt to take over the role of the umbrella traveling English nanny. Blunt's new song "The Place Where Lost Things Go" from Mary Poppins Returns sounds like she might just live up to carrying that carpet bag.
The soundtrack to Mary Poppins Returns hits shelves next week, Dec. 7, 2018, only a couple of weeks ahead of the film's release. To celebrate, Disney Music released not one but two leading singles ahead of the movie's arrival, one featuring Blunt as Poppins and the other starring Lin-Manuel Miranda as "Jack The Lamplighter," a role which fills the "Bert The Chimney Sweep" part played by Dick Van Dyke in the 1964 film.
Blunt's Poppins number isn't a silly "Spoonful of Sugar" tune, but something more akin to the original "Stay Awake" lullaby or "Feed The Birds" with a softer, downtempo, wistful sound. Take a listen:
Do you ever lie awake at night / Just between the dark and the morning light / Searching for the things you used to know / Looking for the place where the lost things go / Do you ever dream or reminisce / Wondering where to find what you truly miss / Or maybe all those things that you love so / Are waiting in the place where the lost things go
Memories you've shed gone for good you feared / They're all around you still though they've disappeared / Nothing's really left or lost without a trace / Nothing's gone forever only out of place / So maybe now the dish and my best spoon / Are playing hide and seek just behind the moon / Waiting there until it's time to show / Spring is like that now far beneath the snow / Hiding in the place where the lost things go
Time to close your eyes so sleep can come around / For when you dream you find all that's lost is found / Maybe on the moon / Or maybe somewhere new maybe all you're missing lives inside of you / So when you need her touch and loving gaze / Gone but not forgotten is the perfect phrase / Smiling from a star that she makes flow / Trust she's always there watching as you grow / Find her in the place where the lost things go
Meanwhile, Miranda's song is a number clearly standing in for the "Chim Chim Cher-ee" song Van Dyke is famous for, including pauses in the song for dance breaks and character banter.
Check it out.
The Mary Poppins Returns soundtrack is massive by the way, with 27 tracks when all is said and done. It's available for pre-order from Amazon with the leading tracks streaming via Spotify.
Mary Poppins Returns arrives in theaters Dec. 19, 2018. Tickets are available for pre-sale at most theaters now.