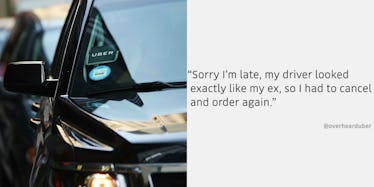 This IG Account Posts Overheard Convos From Uber Rides & It's So Funny, I Can't
You guys, get ready to hit the "Follow" button on another Instagram account that you can't help but laugh out loud as you scroll through it. The Overheard Uber Instagram account recently arrived on the 'Gram, and it will be your new go-to account when you need to boost your mood with a few laughs. You're probably familiar with the other "Overheard" IG accounts, and you can expect the same hilarious anecdotes from Overheard Uber.
You can tell from the name that these comical, brief tales come from conversations that were actually overheard in an Uber or an Uber POOL. If you've used the ride-sharing service, then you know there are plenty of times when something can make you chuckle during even the shortest of rides (like an impromptu game of "would you rather" in your Uber POOL). Even if you haven't had your share of laugh-out-loud moments in an Uber, you'll definitely enjoy the very entertaining stories sent in to the Overheard Uber Instagram account.
You'll be in good company when you follow Overheard Uber on Instagram, because as of publishing, the account has racked up nearly 65,000 followers. The posts range from funny to "OMG, I can't believe that really happened," and you do not want to miss out on all the Overheard Uber fun.
For instance, you never know when an encounter with an expected doppelgänger of your ex-boyfriend might throw a wrench into your travel plans.
Sometimes, it's the little things that make your Uber POOL that much better.
This post is proof that the music selection in your Uber can really set the tone for the night.
Other times, you might learn more about your Uber driver than you ever thought you needed to know.
If you use Uber a lot, it might even change your sense of direction.
Apparently relaying your location to your Uber driver is more difficult than it seems.
I bet you'd never expect the passengers in your Uber POOL to pose such difficult questions.
If a post reminds you of a hilarious Uber exchange of your own, you can get in on the fun, too. According to the Overheard Uber Instagram account, you can send a Direct Message to them on IG with your own submission. Make sure you keep your ears open during all of your Uber rides from now on, because you might just stumble across the next double-tap worthy Overheard Uber story.
Whether the Overheard Uber posts have you saying, "OMG, what?!" or "Same, girl, same," you're sure to find yourself scrolling through it for laughs on the daily. Plus, it's a great way to kill the three to five minutes while you're waiting for your Uber to pick you up.
Speaking of waiting for Ubers, the company recently announced big news that might speed up your trips. (Honestly, I've never had to wait too long for an Uber driver to pick me up, but I am all for speeding up the process.)
Uber Express POOL launched in select cities in February 2018, and it's meant to cut down on POOL costs and drive time. To do so, Uber Express POOL instructs you to walk to an Express spot nearby, and then other Express POOL riders will meet the driver at that same Express spot. Basically, it cuts down on the time the Uber driver needs to ride around the neighborhood picking up each rider. Since you put in a little sweat equity when you stroll to the Express spot, your Uber Express POOL charge will be lower than a normal POOL ride.
Whether you're in an UberX, Uber POOL, or hoofing it to an Express POOL, you can take note of any and all interactions that seem worthy of an Overheard Uber post, because people will definitely want to read it.