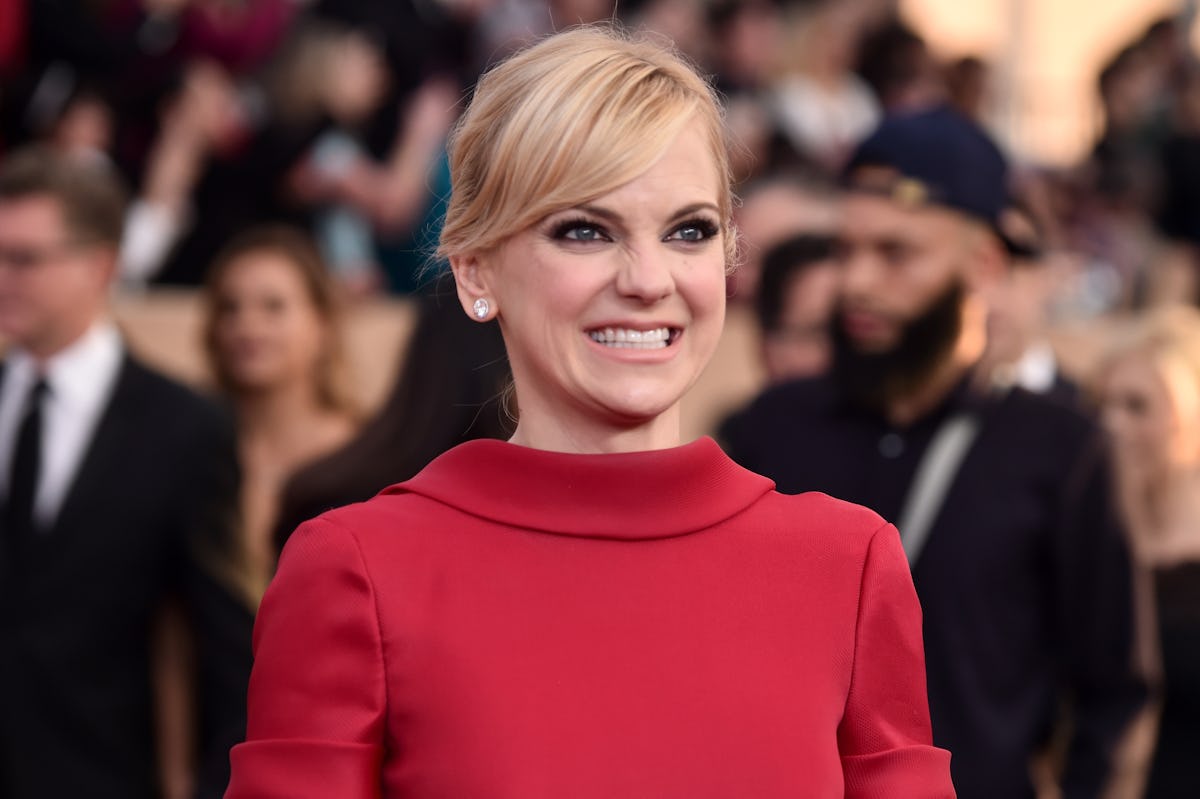 Anna Faris' New Movie Trailer Is Here & It'll Remind You Of All Her Classic Roles
Alberto E. Rodriguez/Getty Images Entertainment/Getty Images
Anna Faris has blessed us with some comedy gold over the course of her career. There was The House Bunny before anyone really knew who she was, the underrated rom-com What's Your Number?, and the success of the TV show Mom, and now Faris is taking on the spotlight once again in her new film Overboard. A remake of the 1987 comedy with the same name, the Overboard trailer proves that Faris is back for another comedic role that ought to only strengthen her brand as everyone's relatable best friend.
Set to be released on April 13 later this year, Overboard introduces Faris' character Kate, a hard-working single mom who convinces a spoiled, rich playboy with amnesia that he's her husband. In an act of rom-com inevitability, the family facade that Kate encourages becomes so enjoyable that she begins to develop romantic feelings for Leonardo, played by Mexican actor Eugenio Derbez.
The remake flips around the premise of the original film, which starred longtime real-life couple Goldie Hawn and Kurt Russell in the lead roles. Hawn then played a heiress who lost her memory after falling overboard from a yacht, while Russell played a dad of four sons who told her character that she was their mother.
Needless to say, I think it's awesome that the remake is putting this (albeit, very, very questionable) kind of power into a woman's hands.
After its first official trailer was released back in December, the latest Overboard promo shows aspiring nurse Kate being treated horribly by Leonardo when she tries to clean his yacht. Her BFF Theresa, played by Eva Longoria, encourages her to get back at him when he develops amnesia (after, yes, falling from his boat) and claim him as her husband at the hospital. After Leonardo initially struggles with adjusting to middle-class family life, he begins putting in more effort, and that's when feelings start coming into play between the fake couple.
From what is seen in the trailer, Kate seems to be most similar to Faris' Mom character Christy. The decision to trick Leonardo likely stems from Kate's desire to provide for her family, which definitely means that plenty jokes with and about kids are in store for movie audiences in April. For those of us familiar with Faris' relatable AF podcast Anna Faris Is Unqualified, I would even bet that her Overboard character will remind viewers of the actress herself. Plus, it just wouldn't be an Anna Faris movie without some of her classic House Bunny physical humor involved.
In a January 2018 interview with Marie Claire, Faris spoke about the daunting task of taking on the remake project of a classic:
It was a movie I grew up just loving. I always called it my 'sick day' movie. Overboard was the movie that I put on when I wasn't feeling great, and it always made me feel better. I could watch it a gazillion times. So when they approached me to be a part of this remake, I was terrified because I felt like there's no way anything could live up to the original. But it was thrilling. I think that our take is quite different. There is a role reversal situation, and I feel like it's updated. I loved working with Eugenio Derbez. He's just amazing and charming. I love being a part of a romantic comedy. I've done a lot of comedies, but haven't always had a ton of romance in them. It's also fun to play somebody who wants to take revenge. I think we all felt a collective feeling that we were making something that just hadn't been done for quite a while. And also what's more delicious than a rich dude becoming unbelievably miserable in an alternate reality? Vengeful women!"
Fans worried of the new film stepping on the original actors' toes can rest assured: Faris has Russell and Hawn's blessing for the film, too. Speaking to Us Weekly, she said that she met for dinner with the pair before filming began:
I like to think that by the end of the dinner they completely gave their blessing. I just adore them and I worship [Hawn]. She was my favorite actress growing up, so yeah, it does feel like there's big shoes to fill. I'm excited. I hope that people really enjoy the movie.
Before Overboard hits theaters, I think a rewatch of the original film is totally needed. While I'm normally not into remakes, the new Overboard definitely looks like it can succeed on its own and pay tribute to its original material. Mark your calendars now!