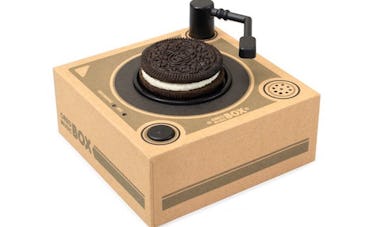 This Oreo Music Box That Uses Cookies To Play Music Is The Perfect Holiday Gift
Courtesy of Oreo
Whenever I write my Christmas list, I usually jot down a few records that I've been hoping to add to my collection. This year might be a little different, though, because Oreo released a one-of-a-kind record player that doesn't exactly play vinyl. Instead, the Oreo Music Box on Amazon swaps actual records for Oreo cookies and uses them to play music. Therefore, I'll probably ask for a package of Oreos that I can jam out to this holiday season. If you've got music-loving friends with a sweet tooth, you might want to consider buying them an Oreo Music Box instead of taking a group trip to the record store this year. You'll get snacks and live tunes — so it's a total win-win.
If you're a little confused about how the Oreo Music Box works, it's totally OK; the idea of an Oreo cookie playing music is a little far-fetched, so I'll explain how to use it. But first, I'll show you where to buy it, because the package includes everything you'll need in order to start spinning vinyl — er, I mean, cookies. In order to land your own Oreo Music Box, head to Amazon and buy it for $19.99. The entire package that you'll receive will have five Oreo cookie packs inside of it, which will include one pack of original Oreos, three packs of Oreo Thins, and one pack of White Fudge Oreos (YUM). It'll also include the actual Oreo turntable and a collectable holiday Oreo tin.
Alright: Now that you know what to expect when you order an Oreo Music Box, I can tell you how to use it. Apparently, it's super easy to do — and you won't even have to worry about scratching any records. According to Oreo, you'll first need to place an Oreo cookie on the turntable. Then, you'll need to slide the record arm over the Oreo (just like you would do if you were using an actual record player). After that, music will start to play. Sure, it might not play Billboard's Hot 100 — but it'll be music coming from a freaking cookie, so it'll be cool AF.
What's even cooler about the turntable is that it'll change the song with every bite you take out of the Oreo. So, if you're listening to music and start getting hungry, you can pick up the cookie and take a bite. When you put it back down onto the turntable, a new song will play. According to Oreo, new songs will keep playing as your cookie gets smaller and smaller — so you're basically the DJ of any party that you bring your Oreo Music Box to.
If you aren't feeling the music, you have another option that's just as fun. According to a video on the Oreo Music Box Amazon page, customers can record their own messages to play while an Oreo is on the turntable. So if you'd rather play your own voice during a holiday party (or sing your own song into the player), you can easily do so.
As you can see, the Oreo Music Box is a fun way to play music while simultaneously snacking on America's favorite cookie. If you're hoping to grab one this holiday season, head to Amazon and start jamming out.