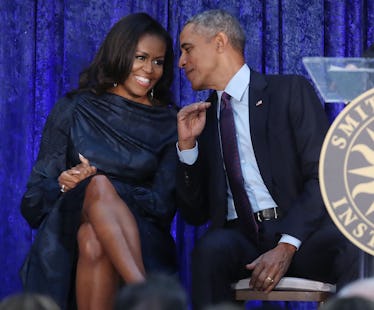 The Obamas May Get A Netflix Show & We've Never Wanted Anything More
Mark Wilson/Getty Images News/Getty Images
Given our current president's TV past, I would never think I'd be happy about the idea of another high-profile politician venturing into television work. But when it comes to smart people contributing to equally intelligent content (I mean, I never watched The Apprentice, but...), I'm always up to give a certain TV project a try. That being said, the Obamas may get a Netflix show, and I'm already planning out my binge-watching schedule of the possible series.
Variety reports that former President Barack and First Lady Michelle Obama are supposedly discussing a production deal with Netflix. The agreement would entail the former presidential couple producing several "high-profile shows" that promote "inspirational stories." The initial report of the potential deal, found in The New York Times, claims that the Obamas' shows would not directly address the current state of U.S. politics.
Eric Schultz, a senior adviser to Obama, told the Times:
President and Mrs. Obama have always believed in the power of storytelling to inspire. Throughout their lives, they have lifted up stories of people whose efforts to make a difference are quietly changing the world for the better. As they consider their future personal plans, they continue to explore new ways to help others tell and share their stories.
The couple was vocal about their pop culture obsessions throughout Obama's tenure in the White House. In 2015, President Obama named Cinemax series The Knick as his favorite show of the year, while Michelle favored Black-ish. Props to them for always staying so on top of recent shows, but who wants to bet that they secretly love NCIS and The Big Bang Theory like everyone else's parents do?
Their love for films has also been well-documented over the years. Obama reportedly loves The Godfather trilogy and classic Hollywood films such as Casablanca, and the duo went to see Do the Right Thing on their first date.
Whereas their tastes fall on the eclectic side, the Obamas will likely veer away from fictional stories in their production role. The Netflix deal reportedly covers several different show ideas. For Obama, the company is considering a series in which he moderates discussions on the topics that played important factors in his presidency, such as health care, climate change, and immigration. Michelle is reportedly discussing work on a show that discusses nutrition.
Besides working on their own Netflix projects, the Obamas could also contribute to the streaming site's other programs that fit their brand of providing inspirational content. Inside sources told the Times that executives from Apple and Amazon are also interested in discussing content deals with the former president.
In an age of Black Panther and A Wrinkle in Time, Michelle has frequently discussed the importance of seeing diverse stories onscreen. Speaking to Variety in 2016, the former First Lady said:
For so many people, television and movies may be the only way they understand people who aren't like them… I come across many little black girls who come up to me over the course of this 7½ years with tears in their eyes, and they say: 'Thank you for being a role model for me. I don't see educated black women on TV, and the fact that you're first lady validates who I am.'
It's unclear how much the Obamas are getting paid for the finalized deal, but taking on the responsibilities would add to their already busy schedule. The pair are both working on their individual memoirs in a joint book deal, so perhaps 2019 will bring us more of the Obamas in both book and televised form. I certainly wouldn't complain about this!