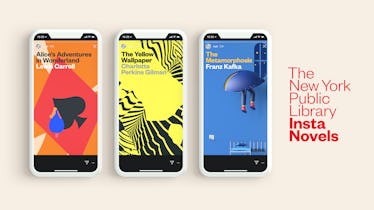 The New York Library Is Posting The Most Beautiful Stories To Its Instagram Account
Instagram
Nowadays, in the age of Kindles, tablets, and Nooks, reading an entire book on a digital device is commonplace. However, did you ever think you'd be able to read a book via Instagram Stories? Honestly, if I weren't already following New York Public Library (NYPL) on Instagram, I would have never known it could be a possibility. If you haven't already taken a moment to check out The New York Library's "Insta Novels" Instagram Story, make sure to do so. Not only is it cool because #FreeReads, but it's also seriously breathtaking.
On Aug. 22, New York Public Library introduced something ground-breaking in the realm of digital reads, called Insta Novels. Since you probably haven't heard of them until today, I'll fill you in on the completely awesome concept. According to a blog post on the NYPL website, Insta Novels are simply books that have been uploaded to @nypl's Instagram Stories. The New York Public Library teamed up with advertising and creative agency Mother in New York to create illustrated digitized versions of classic works. The finished products are then uploaded to the account's IG Stories.
To view them on your phone's IG app, simply tap the right side of the screen if you want to progress to the next page, hold down your finger if you want to hold the page, and tap the left side if you want to go back to a previous page. It's quite simple, and the first Insta Novel is a well-known favorite: Alice In Wonderland.
You can also view the Insta Novel on your computer when you visit the NYPL Instagram on a webpage, so there's really no excuse to miss the colorful and modern illustrations of the classic.
Maybe you read Lewis Carroll's famous novel Alice In Wonderland way back in high school, or maybe you decided to read it after you saw Disney's 2010 live-action remake of the original animated film. If you never got the chance to read it, though, you can now flip through it on The New York Public Library's Instagram Story. Part One of the digitized version debuted Wednesday, Aug. 22, according to a blog post, and Part 2 debuted on Aug. 23.
Since Stories on the app only last 24 hours, the IG account has archived them onto Stories Highlights, which the NYPL plans on using as a "digital bookshelf. Even if you don't have the time to sit down and read the entire novel, it's worth a moment of your time to even just flip through it. It includes some incredible animations from renowned designer Magoz (@magoz).
If Alice In Wonderland isn't quite your speed, The New York Public Library is already planning on uploading two other literary classics to Insta Novels. In the next few weeks, according to the blog post, @nypl will be uploading The Yellow Wallpaper, a short story by Charlotte Perkins Gilman, and illustrated by Buck (@buck_design), as well as The Metamorphosis, a novella by Franz Kafka, which will be illustrated by César Pelizer (@cesarpelizer).
Instagram is also excited about the creative use of its popular Story feature. According to an Instagram spokesperson,
Instagram is always working to bring people closer to the people and things they care about, and Stories is a huge part of that. We're always excited to see the creative ways that people and organizations like the New York Public library are expressing themselves, connecting with their community and sharing on Stories.
With work, school, and various social commitments, squeezing in a quick reading sesh can be pretty difficult for even the most intellectual beings. However, The New York Public Library's Insta Novels are quite honestly groundbreaking, and hopefully they'll continue to catch on. Getting your nose caught in a book is never a bad thing, especially when you were initially intending to scroll through social media instead.