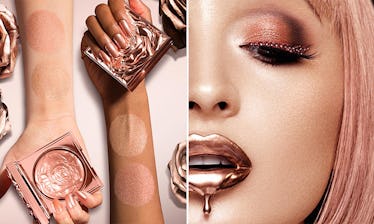 Smashbox Is About To Drop The Metallic Rose Gold Makeup Collection Of Your Dreams
Smashbox
If your ears perk up when you hear the words rose gold, just wait for what's about to happen to your eyes when you see the new Smashbox Petal Metal Makeup Collection. The makeup brand teamed up with Insta-famous makeup artist and Smashbox's Lip Editor-In-Chief Vlada Haggerty, aka VladaMUA on Instagram (the one who does all those mesmerizing dripping lipstick videos), to create a collection made entirely of rose gold products. Dubbed the Petal Metal Collection, this nine-piece lineup of shiny products features everything from makeup primer to highlighter and even eyeliner tattoos, all of which come in the most metallic rose gold packaging that will make everything else in your vanity look basic.
However, the star of the collection is the Petal Metal Highlighter ($39, Smashbox) — with its metallic case donning a shiny rose on the top and a rose-shaped highlighter sitting pretty on the inside, it's no wonder why. But this product is more than just good looks (even if the inside is just as pretty as the outside). The powder is gel-based — I know, mindblower — which is designed to give you smooth application every time. In other words, if you hate how powder highlighters accentuate uneven skin texture, this is the one for you. It comes in two shades: Gilded Rose, a shimmery warm pink, and Rosemantic, a rusty rose shade with gold shimmer.
Though you get the benefits of a liquid and a powder in the Petal Metal Highlighter, some beauty junkies prefer the look and feel of a straight liquid highlighter. For those makeup enthusiasts, Smashbox and Haggerty collaborated on the Petal Metal Shimmer Drops ($39, Smashbox). It's available in two shades: Rose Glitz, a classic rose gold shimmer, and Gold Glitz, a champagne shimmer. And the best part is it looks just as good applied as a lip topper or eyeshadow as it does on your cheekbones.
If you're as obsessed with Smashbox's Photo Finish Foundation Primer ($36, Smashbox) as I am, you're going to flip when you see the new update for this collaboration. Same as before, the primer hydrates skin and preps it for better makeup application, but the new rose gold version also illuminates and enhances the radiance of your skin (perfect for this weird weather transition from winter to spring). Slather the Photo Finish Petal Metal Primer ($39, Smashbox) all over your face before foundation for a lit-from-within glow, then apply some more on the high points of your face like a highlighter for the perfect amount of shine.
If you're more of a setting spray type of girl, but would still love some rose gold shimmer evenly distributed on your face, the Petal Metal Shimmer Spray ($39, Smashbox) is everything you've been looking for. This lightweight illuminating body and face mist sprays on a lasting dewy, rose-gold glow from head to toe. I would actually use it to dampen wet/dry shadows before applying them to my lids. You'll get the benefits of the hydrating spray with a hint of shimmer.
Of course, no makeup look is complete without a stand-out eye look, and even if you suck at doing your own eyeliner, these Petal Metal Swarovski Eye Liner Jewels ($50, Smashbox) make it easy to give your eyes the spotlight. These stick-on eyeliner strips give you a pink glitter cat eye encrusted with rose gold Swarovski crystals. Can you say Coachella?
And in case the bedazzled cat eye is a bit too extra for you (it's not for me!), you can get a more wearable flick courtesy of the Petal Metal Liquid Eye Liner ($24, Smashbox).
These products, along with the Smashbox + Vlada Cover Shot Petal Metal Eye Shadow Palette ($29, Smashbox), Be Legendary Petal Metal Liquid Lip ($24, Smashbox), and Always On Petal Metal Matte Liquid Lipstick ($24, Smashbox), are currently available for preorder on the Smashbox website and will be officially available for purchase on April 13.