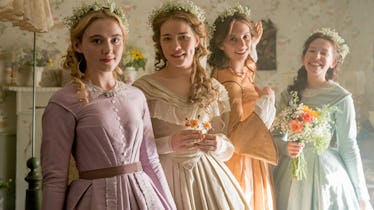 The New 'Little Women' Miniseries Is The Dose Of Literary Girl Power You Need
PBS / BBC
Not every book deemed worthy for the library's classics section remains as readable as it might have been after its initial release. It's not the books' fault, of course, but society has definitely shifted since the heydays of these (often white and male) authors. There are bits of Hemingway, Dickens, and Salinger that make me wince, but I've found that Louisa May Alcott's Little Women always manages to stay relevant and powerful to modern readers. The 1868 novel is beloved for its depiction of female relationships and experiences in the face of adversity, and PBS's new Little Women miniseries is a reminder that the story still provides an essential dose of girl power for contemporary fans.
Following in the footsteps of past adaptations, Little Women introduces the four March sisters, Meg, Jo, Beth, and Amy, at the height of the Civil War. Their father is serving as a pastor in the Union Army, leaving the sisters and their mother alone in their Massachusetts home. As the women, often led by feisty aspiring author Jo, adjust to the changing world around them, they befriend their new neighbor Laurie, who eventually becomes a romantic interest for more than one of the sisters. In addition to discovering what they want in love, the March girls learn how they want to live their lives in a time that is gradually allowing women more independence. Sound familiar?
"When you're working with a period piece, sometimes the obstacles that the characters are dealing with are dated, but the tools that they use to deal with those obstacles are not," Maya Hawke, starring as Jo in her screen debut, tells audience members at the show's Tribeca Film Festival premiere. "As people, we are always trying to be more independent and more brave and more honest...and I think [keeping the story relevant is] just tapping into the why and making those struggles personal."
A 1994 film starring Winona Ryder is unarguably the most well-known Little Women adaptation, but moments into the miniseries' first episode, it's clear that the PBS version has a unique artistic look that sets it apart from predecessors. At the show's film festival panel, executive producer Colin Callender revealed that series director Vanessa Caswill wanted the camera "to be another sister." The result of her wish is close, sweeping shots of the women that ultimately give the show a more realistic, intimate look that holds nothing back.
The new adaptation, written entirely by Call the Midwife creator Heidi Thomas, also strives to portray all four sisters in fresh, new lights. It isn't hard to declare yourself a Jo when Amy's brattiness or the exaggerated sweetness of Meg is all you see in other adaptations, but Thomas worked to ensure that the sisters' multitudes are explored. The show suggests that shy Beth struggles with a modern case of anxiety, while Meg's innocence is at fault when she unknowingly drinks alcoholic punch at a party. The girls' seemingly saintlike mother, Marmee, is also given more definition, welcoming viewers into her lifelong battle with certain feelings. We may assume that 19th century women were afraid to misbehave, but Thomas's script makes the women relatably flawed, reminding female fans that to be powerful, you do not need to be faultless.
If you were a Little Women fan back in the day, the plight of Jo refusing Laurie's marriage proposal probably still destroys your shipper heart. For Hawke, Jo rejecting Laurie was initially just as heartbreaking, but she came to understand the character's decision in a way that only emphasizes the adaptation's relevance to a modern, feminist audience. "Love and romance is all timing," she explains, reminding the audience that Laurie's proposal plays out alongside Beth's death. "If he waited, maybe he'd have success."
Hawke also came to realize that Jo needs a man who wold help her continue her education and become her best self, and Laurie wouldn't be that for her. Jo is open to change, while Laurie was content in relying on their old relationship, creating a scenario assuring women they are allowed to say no.
While the majority of characters onscreen are women, a similar kind of representation was seen behind the scenes of Little Women. In addition to Thomas's script and Caswill's direction, many producers and off-screen talents were women coming together in support of a story many of them had grown up loving. The sisterly set created a special atmosphere, prompting Kathryn Newton, playing Amy, to say, "As a woman, [Caswill] just went about it differently."
The presence of men on set obviously didn't spoil the experience, but the team found it crucial for women to be at the helm of the project. "It's not that men shouldn't be a part of the process," Thomas tells the film festival audience. "I just think women working together on a story, a book that has been so important to women for so many generations, there was a rightness and a fitness to it. When you take on an adaptation of a classic novel, you aren't there to score artistic points...you're there in service of something that has endured for a century and a half, and you need to treat that with as much love and respect as you can muster."
It may have been awhile since you dusted off your copy of Little Women, but in a time of #MeToo and widespread discussion of women's rights, a pure story of female empowerment is what so many of us need right now. When discussing what she learned from her Little Women experience, Hawke lists her top lesson as, "It was possible." While Jo's own achievements were included in her reasoning, 19-year-old Hawke shares how filming the series became her own self-assurance that she could be independent and successful. We're not all swept away to film a TV series to find ourselves, but her simple memory speaks for everyone, telling women that they can be capable of the unthinkable.
Little Women premieres on Sunday, May 13, at 8 p.m. ET on PBS.