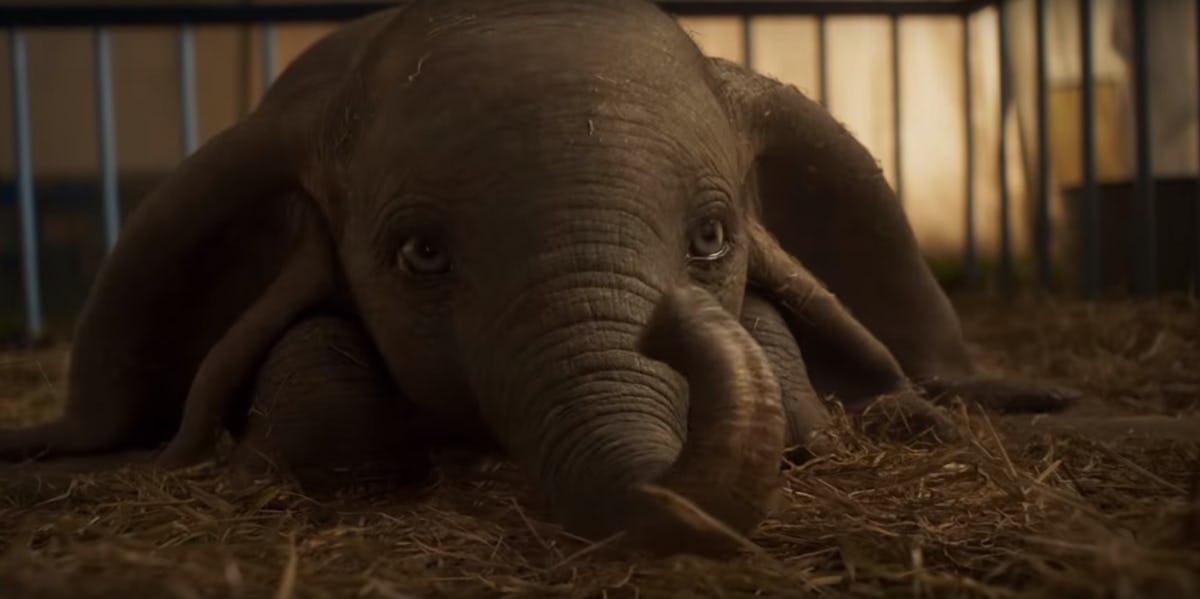 The New 'Dumbo' Trailer Will Make You Sob Uncontrollably, Which Is Not An Exaggeration
Disney/YouTube
Are you ready to cry your eyes out? Because that's exactly what you'll be doing when you watch the new Dumbo trailer. The film doesn't hit theaters until 2019, but Disney has just released the second trailer for the film and it's a tearjerker already. In just two and a half minutes, the trailer will make sure you run through a gamut of emotions: joy, sadness, anger, surprise. It doesn't matter what weepy or whimsical emotions are living inside you, the trailer for Dumbo will definitely bring them out.
And there's a good reason for that. It's a tale that's been told for decades now, but it just never gets old. Just to refresh your memory, here's what Dumbo is all about: Dumbo is a baby elephant with comically-large ears that enable him to fly. In the original 1941 film, his mom becomes enraged when she sees kids taunting him, and her anger forces her owners to lock her up. Dumbo is then looked after by a mouse who encourages Dumbo to use his magical ears to fly. In the new film, however, Dumbo is cared for by two little kids called Joe and Milly Farrier. When Dumbo's mom is taken away, Joe and Milly vow to help him reunite with his mom, setting the film's story into action. And in the process, he becomes a circus performer himself.
No matter which way the story is told, it brings all those emotions to the surface because the story is a universal one. Everyone can relate to the sadness of being exploited or of finding your inner strength even when you don't think you can. And that's exactly what Dumbo is about. Every character, including Dumbo himself, must face the impossible and overcome it. That, my friends, is an experience we all have under our belts in some degree or another.
And since that type of storytelling is oh so relatable, it definitely makes for the kind of film that'll make you laugh, cry, and even rage with anger at times. With all that said, why don't you have a look at the new Dumbo trailer yourself?
You can check out the trailer down below:
In addition to what looks to be an incredibly fresh take on an old story, the film also has a great team in front of and behind the camera. Legendary director Tim Burton was at the helm of the project. And in true Burton fashion, he assembled a fantastic cast to bring his vision to life.
Throughout the trailer, you'll spot Colin Farrell as Holt Farrier, Eva Green as Colette Marchant, and Danny DeVito as Max Medici. Those are just the main adult roles in the film. As for the kids, you can count on seeing Finley Hobbins and Nico Parker as Joe and Milly Farrier. Now, if you watched the trailer carefully, you might have noticed that the little girl playing Milly looked suspiciously familiar. And there's a good reason for that, too. Parker is actually Thandie Newton's daughter, and she looks exactly like her talented mom. So, if you were thinking that Parker looked like Maeve from Westworld, you'd be right!
Dumbo will be coming to a theater near you in March 2019. It's still months away, but I'm betting this movie will be worth the wait!